What is expected of an official
Being an official is an extremely important role in any sport. Without officials giving up their time, most sporting competitions would be unable to function.
Officiating can be a challenging role, and unfortunately some officials are subjected to hostile behaviour by participants, spectators and others. Officials need to be able to perform their role in a positive manner, and block out the 'nonsense' that can be generated by spectators.
Officials need to ensure their approach towards officiating is in line with the aims of the competition (for example, junior competitions are usually aimed at fun and skill development, rather than winning). Officials should be aware that their approach to officiating can influence the participants experience and enjoyment of the sport.
Each official becomes the 'face' of officiating at competitions. People often judge all officials by how an individual official behaves, hence the need for professional and responsible approaches when dealing with participants, coaches, administrators and others involved with competitions. Some sporting organisations have a uniform which officials are expected to wear while officiating at sanctioned or formal competitions. It is important that officials present in a manner that portrays officiating in a positive, professional and respected manner.
Officials undertake an important role in the staging of competitions. They provide leadership and guidance to participants in a facilitative manner, ensuring that the competition is conducted in a safe and fair manner.
Qualities such as integrity, honesty, trustworthiness and respect are integral to the role of the official. This includes how they behave and relate to others prior to, during and following competition, how they present themself as an official and how they go about their role. Officials are responsible for their actions and attitude. People expect the official to be a person they can trust to control the competition.
There are a number of expectations of officials. These include being:
Trustworthy - honest and impartial
Responsible - have integrity and take the role seriously
Prepared for their role - prepared physically and mentally for the task
Competent - have and are further developing the skills for the task
It is important that officials fulfil these expectations. By doing this, officials will earn the respect of participants, coaches, administrators and their officiating colleagues.
It is important to remember that the competition in which the official is officiating is the most important competition that day to those participating in it.
The physical requirements of an official will vary from sport to sport and within a sport. Some sports require officials to be very active - rugby league, basketball, netball; while others less so - equestrian, athletics, rowing. Adopting a healthy lifestyle will contribute to all officials being in appropriate physicalcondition. Officiating in some sports will require additional physical preparation that is appropriate for the particular sport. The more active officiating roles require a level of physical fitness that will allow the official to achieve correct positioning throughout the competition, make good decisions and officiate the competition in a non-distressed physical state.
Working with other officials
Often officials are appointed to a competition as part of a team, eg. three referees in basketball, field, boundary and goal umpires in Australian Football, and twelve officials in a cycling race. This includes situations where officials work with another person or a number of people to undertake the officiating role. To be effective in team situations, officials need to demonstrate an ability to:
Cooperate with colleagues and others
Communicate with colleagues and others
Share with colleagues and others
Support one another (colleagues)
Cooperation between officials leads to a much smoother running of the competition and conveys to participants and others that the officials know what they are doing and are in control of the situation.
Communication within the 'team' prior to, during and after the competition contributes to a sense of certainty for participants and others and reduces the risk of confusion during the competition.
Sharing of information between officials can add to the accuracy of official's decisions. From time to time, officials are unsighted and might 'miss' a decision if it weren't for a colleague assisting them. Sharing of experiences within a team of officials can assist with the development of colleagues.
Supporting each other, particularly through tough times when the environment can be daunting to the inexperienced official, can add strength to an official's team.
Depending on the competition, there could be a range of officiating roles that are undertaken to stage the competition. For example, at a swimming meet there is a starter, timers, referee, and recorders. Officials need to cooperate with colleagues for the successful staging of the competition. Each official is reliant on the other. It is important that each is aware of the different roles and the requirements of each official's role. Communicating and co-operating are two key ingredients which contribute to effective officiating.
Sporting environments and competitions evoke a lot of emotion and passion from those involved, including spectators. An official who demonstrates a pleasant style, smile and calm manner creates a positive environment, which can have a positive effect on participants, coaches and most spectators.
Spectators and others frequently disagree with official's decisions, and from time to time, decisions will infuriate spectators and others to the point where they can become hostile towards the official. This situation can be minimised by the approach the official takes to those situations. It is important that the official does not engage with the spectators eg. no eye contact or verbal response, as this can further incite the aggrieved spectator.
Comments from spectators at sporting competitions are part of the officiating environment. As a group, spectators usually exhibit highly emotional responses and often take delight in antagonising officials. Their behaviour can be off putting, not only to the inexperienced official. There are a range of strategies for officials to deal with the pressure created by spectators.
Officials should ignore the comments as best they can by blocking them out. This can be achieved by focusing on key aspects of officiating like positioning or what and where to observe. Generally speaking, the comments are not meant personally, it is highly irrational, emotive behaviour that is being displayed by the spectators. Failing to ignore the comments can lead to lapses in concentration and an incorrect focus for the official, often leading to errors in officiating.
Officials should remain calm. Be aware of the important officiating areas to focus on during a competition.
Never respond to spectator abuse, (much as you might like to!). Seeking the official's attention and distracting them is one of the aims of an abusive spectator.
Procedures for situations where spectator behaviour becomes serious and contravenes the rules of the sport
Sporting organisations usually have a range of procedures that the official is expected to follow in different situations. This can range from climate conditions, to injured participants, to spectator behaviour. The official needs to be familiar with these procedures and the actions that are required in the event of spectator behaviour that becomes serious and needs to be acted upon.
Seeking support/counselling
There are occasions when spectator abuse starts to wear the official down. It can have a negative impact on the official and officiating. Being subjected to regular abuse reduces the enjoyment for officials and hence many officials retire because of the abuse they are subjected to. Officials who are concerned about abuse should seek support from others to assist them to deal with it. Speaking with experienced officials can help with additional strategies or a new approach to dealing with abuse. Officials associations and sporting organisations can also provide support to officials. You might also like to contact your state department of sport and recreation for assistance
Sports administrators also have a role to play in preventing abuse of officials, and a number of sporting organisations are starting to implement strategies to stop the abuse of officials. Abuse is well recognised as having a major impact on the retention of officials, and as a result, more is being done to address it.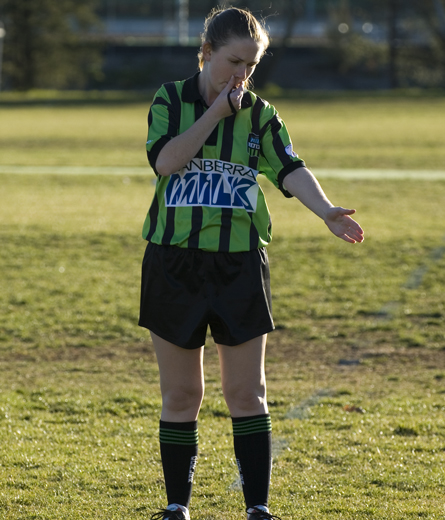 Return to top