Game demands and football referee fitness tests
Peter Reaburn, Department of Health and Human Performance, Central Queensland University
Purpose of the study
The aim of the study was to examine the activity profiles, heart rate responses and physical fitness of football referees during the FIFA Confederations Cup 2005. Computerised match analyses were performed with a two-dimensional video system, and heart rates measured using heart rate monitors. The study also examined the relationship between match activities and a FIFA referee fitness test introduced in 2005 that involves a series of six 40-metre timed sprint tests and a series of 150-metre runs followed by 50 metres of walking.
Results of the study
Total distance covered during the games averaged 10 218 metres, of which 3531 metres was covered at high intensity running (faster than 3.6 metres per second) and 1920 metres at high speed running (faster than 5 metres per second). Average heart rate was 161 bpm (86 per cent of maximal heart rate) and was related to the number of high-intensity activities performed during the match. The study also showed that the new fitness tests adopted by FIFA were poor predictors of match activities.
So what?
Officials can make or break a game based on their decision-making. Their football-specific fitness is crucial as decision-making has been shown to be impaired when people are fatigued. The results of this study suggest that football referees need to ensure high levels of aerobic fitness (continuous running and longer interval training) as well as the trained ability to repeat speed (multiple sets of shorter sprint intervals). Finally, the results of this study suggest that the FIFA fitness tests for football referees may not be a valid test of the demands of a high level referee.
Reference
Mallo, J, Navarro, E, García Aranda, JM, Helsen, WF 2009, 'Activity profile of top-class association football referees in relation to fitness-test performance and match standard', Journal of Sports Sciences, 27(1), pp. 9–17.
Source: Sports Official Volume 8 Number 1
Umpire abuse: does it really matter?
Peter Reaburn, Department of Health and Human Performance, Central Queensland University
Purpose of the study
Twenty-two umpires of professional and semi-professional AFL were interviewed to determine what they think of abusive behaviour and what they find to be rewarding about umpiring.
Results of the study
This study of high level AFL umpires showed that they routinely and mentally reframe abuse, considering it to be a normal part of their role. Abuse was not seen by these umpires to turn them off the game, and there was no evidence that it contributes to attrition. The umpires enjoyed the social world they share with other umpires and identified social interactions with other umpires as a key reason for continuing to umpire.
So what?
This study highlights that high level umpires appear to see abuse as 'part of the game' and 'comes with the territory'. As a practicing netball coach, I wonder whether club-level umpires see it the same way! The study also highlights the important role that socialising plays in umpiring in helping them reframe abuse and in maintaining their commitment. The results also suggest that the social rewards of umpiring should be stressed in umpire recruitment, and that the social world of umpiring should be incorporated into umpire training and retention.
Reference
Kellett, P, Shilbury, D 2007, 'Umpire participation: is abuse really the issue?' Sport Management Review, 10(3), p. 209–29.
Source: Sports Official Volume 8 Number 1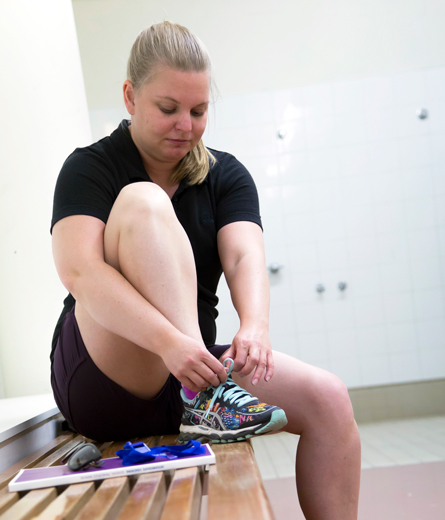 Return to top