how the governance principles can be successfully integrated into your organisation.
Richmond Football Club
At the startline — Peggy O'Neal AO, Club President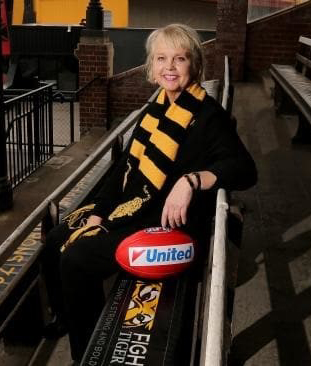 Richmond Football Club
Peggy O'Neal AO, Club President Richmond Football Club
The Startline
"A board is the chance to be the ultimate role model."
Advice to sport board member aspirants.
Self-reflect on why you want to join and what is your interest in that board. What are the skills that you can bring or contribute. Get a thorough induction on how that board operates. Find a board that will allow you to contribute to your best.
Governance is about accountability and in each person understanding the role they are there to play and executing that role well. It is a system of checks and balances that ultimately improves decision making.
Governance and culture go hand in hand. Both are examples of the way things are done at an organisation. Boards are there to define a course of action and management are there to get things done.
Boards set up the rules of the game and how an organisation will operate. You want a board to understand its job which is why understanding governance principles is important. Getting each member to stay in their lane is the understanding of what this topic of the Start Line is all about.
A common misconception for Board Directors. Do they pick the teams?
Board members need to get used to the idea that Directors are not there to 'do' to pick teams. This is the management team's role. The organisation has hired the best talent in management to make qualified expert decisions and not through a Board member. We all have a role to play and that is good governance.
How important is the relationship between the Board and CEO?
The Board guides the management team through the CEO and this is one of the most important governance relationships in any organisation. A close working relationship built on trust and mutual respect has led to the success of the Richmond Football Club, both on and off the field. Peggy believes in the need to have a clear delineation between the role of the Board and the role of Management and documented delegations of authority to ensure that they don't step on each other's toes.
How important is unity in Board decision making and operations? 
A board only operates as a committee. A director's job is to reach unity on a decision made by the committee. It is imperative to present to stakeholders a unified decision made by the collective of the board. An individual director may not have voted for a decision but they have to be able to support that decision. If a director cannot support a decision then it maybe the time to resign from that board as otherwise they are undermining the board. Unity comes from trust amongst directors of a board and trust for your management team.
Boards build and role model a positive culture
Board members need to model the values of the organisation. If board members don't then it becomes permissible for no-one in the organisation to behave that way. The board is very important in setting the tone and telling management whether they believe in the organisation's purpose or not.
Sport governance principles podcast - The Startline
Commonwealth Games Australia
The Spirit of the Game — Petria Thomas, OAM, Commonwealth Games Australia
Commonwealth Games Australia
Petria Thomas, OAM, Chef de Mission – Birmingham 2022 Australian Commonwealth Games Team
The Spirit of the Game
"If there is a positive culture… you get the best out of yourself."
How would you define or describe culture?
Culture is an organisation's shared values and beliefs. Values are intangible guides to how an individual is expected to behave. A shared set of values, and the resulting culture, outlines what behaviours are and are not acceptable. Describing and measuring an organisation's culture can be difficult because of its abstract nature. Culture is not the ticking of boxes; it is lived and breathed, and influences all aspects of an organisation.
Why is a positive culture important?
If there is a positive culture, then people are more likely to feel safe and have an enjoyable experience. Environments with a positive culture are more conducive to participants getting the best out of themselves, no matter whether you they are an athlete, a staff member or in another role. People need to feel that they can speak up without fear of retribution if they see something that is not acceptable.
Have you had to call out poor behaviour?
I have grown to understand acceptable and unacceptable behaviour both as an athlete and during my professional career. Though often difficult, it's really important when you see things that don't sit right, to call them out. I have had to do this a few times. It was hard in the moment, but afterwards I felt that I done the right thing and influenced the likelihood of the behaviour happening again.
Is the process of defining and consulting widely on values important?
It is critical that an organisation has a strong and sound set of values as this forms the culture within the organisation both for its staff and its members. The process of establishing values is really important as you only get 'buy-in' throughout an organisation when you've had wide consultation. Members and staff will come with diverse perspectives and it's important to capture these to help establish a strong culture.
What is the role of the board in terms of values and organisational culture?
The Board is the peak of the organisation. They're the ones making decisions about the strategic direction of the organisation. The Board should be role-modelling the values and behaviours that they would like members and staff are to portray. Visibility of the board in this respect is vital.
How are you establishing the values for the Australian team, taking part in the Commonwealth Games in Birmingham in 2022?
It is really challenging bringing 700+ people together from different sports with different cultures and subcultures and expect them to gel and feel part of a larger Australian team. The approach I've taken in the past is to treat people the way you would like to be treated. I think this sort of basic approach is what I'd like to see our Australian team members enact. I'm confident that Commonwealth Games Australia's existing organisational values of Inclusiveness, Integrity, Respect and Excellence will also sit well with team members.
What was the culture like at the 2018 Commonwealth Games in the Gold Coast?
We had some really positive feedback from our survey after the Games in 2018. People felt valued and had a good experience. This indicates that there was a positive culture established by and within the team. There were two primary goals we had for the Gold Coast. The first was for team members to perform at their best because of the environment we created. The second, and no less important, was that team members had a good experience and felt that they were part of something that is bigger.. On the whole I think we achieved these goals.
Is culture a different way to bring Governance to life?
People create culture and bring the policies and structures of governance to life. While policies and structures are an important part of governance, they are only meaningful if they are implemented and monitored by people within the organisation and embraced by members. Education is also a critical.
Sport Governance Principles podcast - The Spirit of the Game
Return to top