Project
5 a side Football Pitch Malahang Reserve
Organisation
Banyule City Council, VIC
Grant Amount
$50,000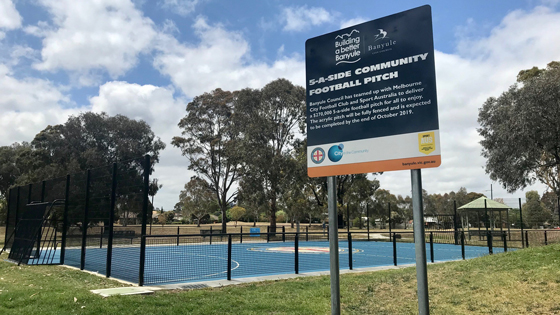 Using the beautiful game to strengthen community ties
Best known as the site of the Summer Olympics athlete's village in 1956, Heidelberg West is once again using sport to bring people together. But this time the focus is on the local community and football is the game.
Since its time in the global spotlight, this historic suburb 12 kilometres north-east of central Melbourne has grown into a multicultural community. It is home to the second largest Somali youth population in Victoria.
The neighbourhood faces some challenges with higher than average unemployment rates, economic disadvantage and youth disengagement. When local youths came together at a Youth Summit to discuss shared issues a couple of years ago, recreation, sport, inclusion, diversity and equality were all key themes addressed at the summit. The development of a five-a-side football pitch accessible to everyone was a key recommendation.
The summit saw the formation of a Somali boys' leadership group, which has actively campaigned for new football facilities. The club has hosted football workshops at the local YouthFest in 2017 and 2018 to drive awareness.
Banyule City Council and Melbourne City FC (MCFC) have now joined forces to answer that call, constructing a pitch at Malahang Reserve in the heart of Heidelberg West by the end of 2019. This initiative will tap into a shared love of the beautiful game and is supported by a Community Sport Infrastructure Grant from Sport Australia.
"Our local youth have passionately advocated for this facility and we're excited about teaming up with Sport Australia and Melbourne City FC to create more sporting opportunities for the local community.
"Sport is a great social connector and plays a vital role in strengthening bonds across the community. No matter what your age, background or belief system, everyone in Banyule will be welcome at this facility to have a casual kick with others, connect and enjoy a shared love of football for a happier, healthier community," Banyule Mayor, Cr Allison Champion said.
Speaking the same language
The global appeal of football has often seen it used as a vehicle to help new arrivals settle into communities. Competition and teamwork have universal appeal, driving social cohesion and integration. Banyule City Council is planning to deliver structured programs aimed at community groups including migrants, older adults and soccer mums. Unstructured fun will look after itself. What makes this program so special is the collaboration between the Federal Government, a local council and private enterprise. The partnership with MCFC has created an opportunity to develop youth employment programs with local agencies. Long-term unemployed members of the community will work with the local football club development staff, learning about active living while developing valuable work skills.
"We're currently running a number of programs in the area as our club HQ is just down the road from Malahang," says Sue Crow, Head of Community at Melbourne City FC. "We've sent young leaders from Heidelberg West to Manchester during the past couple of years for the global young leader summit. This gets them involved in advanced leadership and football training with peers from around the world."
MCFC established its community outreach program, City in the Community, back in 2010. More than 300,000 young Victorians have taken part in health, education and leadership development initiatives. In New York, the MCFC program has seen the development of a project to build 50 new pitches. A similar initiative in Manchester has seen the refurbishment of old, neglected pitches around the city. Malahang Reserve is the first step on a similar path in Melbourne.
"We're inspired by the work being undertaken by our global partners and want to continue these efforts throughout Victoria" says Sue. "A regional facility of this nature will attract a host of visitors, helping people be more active and feel part of something. Whether it connects them to the local club or is just used as a social hangout, it's a great result for the community."
Return to top