Project
Bar Beach Multi Sport Facility
Organisation
Bar Beach Tennis Club, NSW
Grant Amount
$197,000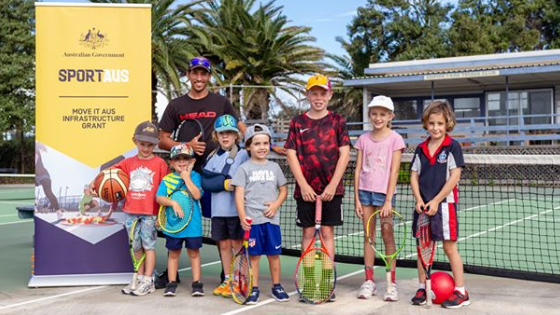 New sporting club to make waves near the beach
Life moves more slowly near the beach. That's a big part of the attraction. Bar Beach, a sandy inner-city suburb of Newcastle, is the quintessential vacation town with properties dotted along the sprawling beachfront.
"Originally, the Empire Park complex had five tennis courts but only three had lighting. The other two courts were unlit and rundown, the surface cracked, and the fencing falling down."
People stopped using the dilapidated courts despite the game's popularity with locals. Night games simply weren't an option because of the inadequate lighting.
"The conditions had become dangerous. Broken fencing leans over the court and the clubhouse didn't get used at all," says Michael. "It's a shame because people really enjoy playing."
When Michael started coaching at Empire Park, he quickly built a strong following among club members. The kids program began with a handful of children but quickly grew to 200 a week. Many locals had to travel to find other courts.
To address this, the club successfully applied for a Community Sport Infrastructure grant. The Sport Australia fund will help the Bar Beach Tennis Club carry out much-needed renovations, increase community participation, run social competitions and restore its night programs.
The project is supported by the Newcastle City Council. Newcastle Lord Mayor, Nuatali Nelmes, has praised the project, citing the need to provide basketball and multipurpose facilities in an area currently lacking them.
The renovations will see LED lighting replace the existing fittings while the deck is torn down and replaced with added shelter.
"We take LED lighting for granted but its benefits run much deeper than reduced running costs. Now we can illuminate all five courts, running tennis and other competitions or programs at night, targeting after-school sessions and people who use their time after work for recreational activity."
The venue itself will also be transformed into a multi-sports complex with basketball and futsal courts to support other activities.
"I've been at the club for 13 years and have spent the past six years trying to get things moving as its president. It's been a long journey to see this facility upgraded so we can make best use of it," says Michael.
"We're excited to receive the grant and confident about getting more of the community involved. It benefits everyone, young and old."
Return to top