Project
Remote Indigenous Community Swimming Pool Upgrades
Organisation
MacDonnell Regional Council
Grant Amount
$131,099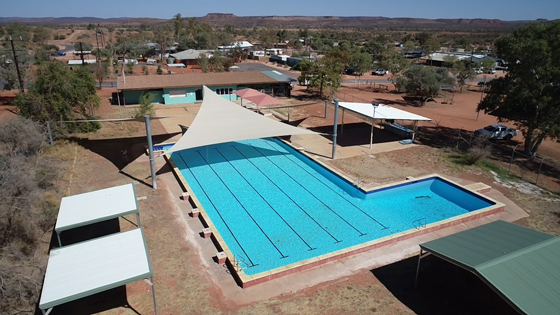 Making a splash in the centre of Australia
Most Australians take a dip in the local swimming pool, river or ocean for granted on a hot summer's day. But in Santa Teresa, a remote Indigenous community in the very centre of Australia, the community pool isn't just a respite from the scorching 40°C days.
"We're trying to turn it into a hub for the community," says Kea Lambert, Coordinator of Aquatic Facilities and Projects at MacDonnell Regional Council. "It already is for children but there's so much more we could be doing."
Kea manages Santa Teresa and two other pools within MacDonnell's wide council area, which includes 13 indigenous communities and numerous outstations. The pool at Areyonga already has town-hall status in the community and Kea has seen firsthand the benefits this brings.
"Our council departments have meetings and hold job interviews at the pool," he says. "It's fun, it has music – it's a similar vibe to what you'd experience at a city café. It's such a positive community space. We want to do the same for the people of Santa Teresa."
Cost has thwarted this ambition. The pool was built in the 1970s and hasn't been renovated since. The surface has deteriorated, making it attractive for algae and harder to chlorinate. Water leaks are patched continuously.
Kea's small team is forced to spend lots of time on pool maintenance instead of building programs that would allow the pool to flourish as a community space. They're often found removing broken tiles and filtering out bits of pool surface so that it's clean for swimmers.
Even though problems were identified six years ago, the council hasn't had the funding to meet the enormous renovation bill. It even had to introduce charges to meet outgoing costs. The state of the pool had raised questions about its long-term viability.
News that the pools at Santa Teresa and Areyonga had been chosen for Sport Australia Community Infrastructure Grants changed all that. The funding includes a new pool shell for both sites and spectator seating.
Staff are already planning new initiatives now that they're freed from maintenance work. Much of this is focused on improving adult engagement with longer opening hours and new activities. These include water polo, synchronised swimming and triathlon training.
"Swimming is typically seen as an activity for children," Kea says. "We don't get many parents swimming laps or sitting in the pool but we're hoping to change that."
It also provides a new opportunity for the council to partner with peak sporting bodies like Swimming NT, Triathlon NT and Royal Life Saving NT to deliver more educational and physical activities for the community.
There are plans to engage different community groups including aged care and child-care centres. This includes rolling out 'Mum and Bubs' sessions to encourage water safety awareness. The swimming pools will continue offering Kungka (women's) and Wati (men's) nights as requested by the community.
Swimming helps to address chronic diseases that are prevalent in the community. It improves skin, eye and ear health as well as preventing trachoma. There are plans to hold MacDonnell Regional Council's first swim carnival for kids at Santa Teresa pool, bringing huge social and community benefits.
"Children love the pool. They go because it's an exciting place," Kea says. "They behave well because they don't want to miss out on the opportunity of spending time with their friends."
Santa Teresa is a dry community. A revitalised pool will create an active space where the community socialises together in an environment that promotes a healthier lifestyle.
"We want to encourage parents and caregivers to be more engaged with their children, by providing an opportunity for them to jump in the pool," Kea says. "It's also an opportunity for them to hang out in a positive space and a safe environment, while the kids are enjoying themselves.
"This swimming pool in the middle of remote Australia provides such an awesome experience for the community. Access to water is an Australian's rite of passage and providing that experience here is so important."
Return to top