Project
Community Indoor Activity and Training Centre
Organisation
Peninsula and Districts Football and Sporting Club, QLD
Grant Amount
$451,900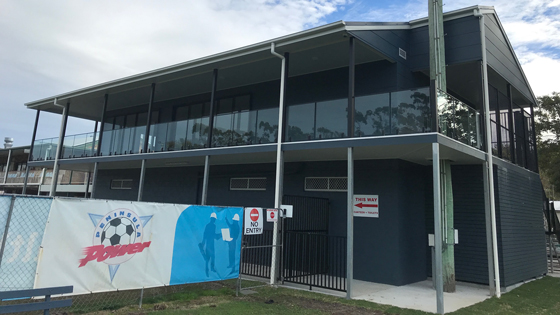 Stayin' alive and scoring goals in sports-mad Redcliffe
There's something special about the residential suburb of Redcliffe, north-east of Brisbane. Famously the hometown of the iconic Gibb brothers, better known as The Bee Gees, this sports-mad Queensland community of 60,000+ recently drew national attention when it became the shock frontrunner for Brisbane's second professional rugby league team.
Redcliffe is booming, fuelled by a growing population and increased visitor numbers from the surrounding regions. Local facilities are struggling to keep pace with growing demand.
"The city of Redcliffe is very passionate about sports," says Craig Feuerriegel, President of the Peninsula and Districts Football and Sporting Club. "We've excelled in football, league and swimming so the kids grow up wanting to be a part of that.
"At the Peninsula Sporting Club, we have a clubhouse and two fields, one of which is in good condition. Unfortunately, with the growth in our club, particularly over the last 5-10 years, we're running out of room and in desperate need of more resources."
For the Peninsula club, the Redcliffe resurgence presents a golden opportunity, but accessing the necessary funds has been a challenge.
The goal is to offer improved facilities for current and future members as well as visitors, encouraging talented and elite local players to stay involved with Peninsula Power while they compete in higher levels of competition.
To address this, the club successfully applied for a Community Sport Infrastructure grant. The funds will be used to help support expansion and increased community participation, providing a year-round training space for Redcliffe's sports-crazed residents.
"To put some of the challenges into perspective, during cold and wet seasons we currently have no indoor training centre for athletes to use," says Craig. "The grant gives us the opportunity to build an indoor facility that can be used year-round by our local athletes."
Craig also notes the importance of community organisations in the area and the potential to work with them to boost inclusion, benefitting marginalised individuals in Redcliffe and the surrounding neighbourhoods: "Historically we've been limited in what training areas we can offer for all ages and abilities. With the funding increase we can reconnect with community organisations we haven't been able to accommodate. It opens exciting doors for us to make a real impact."
The Peninsula and District Football and Sporting Club has launched initiatives to involve women, children, Aboriginal and Torres Strait Islanders, seniors and people with disabilities. Encouraging female participation in sport, recreation and physical activities has been a major focus for the club
"This has been a massive focus for us, and we've pretty much set the bar for this in our area over a number of years," says Craig. "We reached the highest level of women's football in the state and won all competitions last season. To build on this progress we need facilities that provide for our female members and make them feel equal."
To Craig, the mission of this project is bigger than sports: "On weekends we have mothers and daughters, fathers and sons, playing or attending. It's a social event, catching up with your friends and your sporting family. I'm proud to say this is a family-based community club."
Return to top