Project
Wollondilly Walking and Cycling Trail Lighting Project
Organisation
Goulburn Mulwaree Council
Grant Amount
$377,587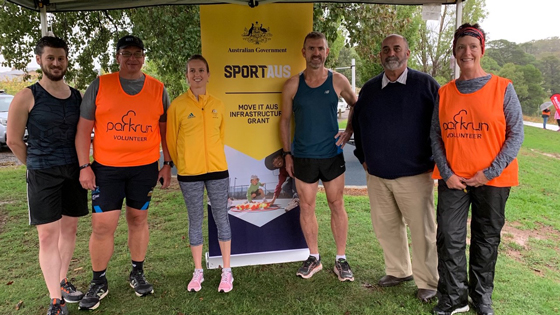 Lighting a path to better health
Before it was even built, Wollondilly River Walking and Cycling Trail was a hit with locals.
It used to be an informal dirt trail, hugging the riverbank through Goulburn and regularly used by the community. Although it was a scenic walk, the uneven surface meant it wasn't suitable for everyone.
That's why Goulburn Mulwaree Council decided to formalise the trail, building a concrete path back in 2016. Now it's embarking on an extension, which will see the path grow to 4 kilometres in length.
"The Walking Trail has really engaged people because it's just beautiful," says Robert Hughes, Business Manager Community Facilities at Goulburn Mulwaree Council. "Before there had been this feeling that the city hadn't taken advantage of the river as an asset.
"The path has changed all that. We've created this valuable community asset – a recreational space that's useful to people in lots of different locations throughout the town."
Since it was first unveiled to the community, the trail has built an avid following among walkers, runners, cyclists, dog owners and families. It's racking up more than 75,000 visits each year, a significant number in a city where the population is just over 30,000.
But despite its undoubted popularity, accessibility was still a problem. Use of the track dropped dramatically during the winter months and in the evenings. That's why the council decided to apply for a Community Infrastructure Grant from Sport Australia.
"The trail is on the river and there's not much ambient lighting down there," Robert says. "People don't use it after dark, which makes it difficult if they work, or in winter when daylight savings is finished. We had this idea of extending usage and we knew public lighting would be the answer."
The grant Goulburn Mulwaree Council received will build lighting along the length of the track. The lights will be solar LED, a zero-emissions source chosen for its environmental benefit.
By increasing the times in which the track can be used, the hope is that this will increase accessibility across a range of community groups. This includes women, children, older people or other groups that may feel more vulnerable walking in poorly lit public spaces.
"Lighting creates a public safety benefit. It creates this psychological sense that it's an area people care about," Robert says. "It's part of inclusivity – helping everyone feel like the space is for them."
While the Goulburn city area is well serviced by sporting ovals, it had lacked informal facilities for the community. The trail is designed to encourage activity across age groups and fitness levels.
Goulburn also has a lower socioeconomic profile than the NSW regional average, which can bring a whole host of health issues. People typically have less money to invest in recreational activities and lower education levels, which can in turn result in less awareness of the risk factors of disease.
"Walking is so popular – it's the number one active recreational activity across the country," Robert says. "It doesn't cost money and you don't need to be super fit to do it. The trail, without ever being promoted in this way, is a great activity to address fitness levels. You can walk through a lovely environment and it's available locally."
With just the lighting alone, the council's modelling forecasts a 20 per cent increase in track visits. As it further upgrades the trail in the next few years – with picnic sites, gym equipment and seating – popularity looks sure to continue growing.
"People love the trail," Robert says. "It's really increased the liveability of Goulburn. I think that's why it's been so quickly embraced by the community."
Return to top