Golf Australia and the PGA of Australia's MyGolf program offers school students the opportunity to get their first taste of golf through interactive and modifiable games and activities, that promote engagement and skill development.
MyGolf at school can easily be transitioned to MyGolf at the local course, with qualified PGA professionals and community instructors delivering these programs at school generally running junior programs at the club as well.

MyGolf Schools: A program that can be delivered at school or the local golf course across 4+ sessions to promote golf and life skill development for kids of all abilities. The program will provide students with a direct link to a community MyGolf program and will empower students with the confidence and skills to take the next step on their golfing journey.
1. Coach fees:*
4x 1-hour sessions to 10-15 students = $600
4 x 1-hour sessions to 16-30 students = $1,000


*Additional session(s) will incur the following costs:

Delivery to 10-15 students = $150 per session
Delivery to 16-30 students = $250 per session
3. Administration fee = $100
4. Delivery to 10-15 students = $150 per session
5. Delivery to 15-30 students = $250 per session
Students who participate in the Club Connect MyGolf offering will be provided a registration subsidy when enrolling into the local MyGolf program.
1. MyGolf participants packs containing the below items can be purchased for $39.00 with free delivery
1 x 7-iron club
1 x PVC Flipper ball (size of standard tennis ball)
1 x PVC Clicker Ball (size of standard golf ball)

Schools will be provided login details to access these after completing an EOI form.
2. Visit to the local golf facility (recommended): Negotiated with school
Price dependant on number of students, number of sessions at golf facility, green fee rate and whether the school has their own transport.
This will provide the best opportunity for students to get a taste of the ultimate golfing experience and support their confidence to transition to club-based participation.
Schools can arrange this with assistance of the state golf coordinator/ program deliverer and golf club.
Online coaching accreditation available to teachers and parents that may want to assist with MyGolf program delivery at the local golf club.
4. School Ambassador Program (FREE)
The MyGolf School Ambassador program aims to support and recognise teachers for the commitment in promoting MyGolf Schools and club programs within their local school community. Registered School Ambassadors will have exclusive access to a range of online resources and are also offered fantastic prizes when promoting the local MyGolf program. It's free to join and you can register by going to the Golf Australia website.
Lower primary, Upper primary and Secondary Kits available and can be purchased for $760 (+ shipping). All kits contain: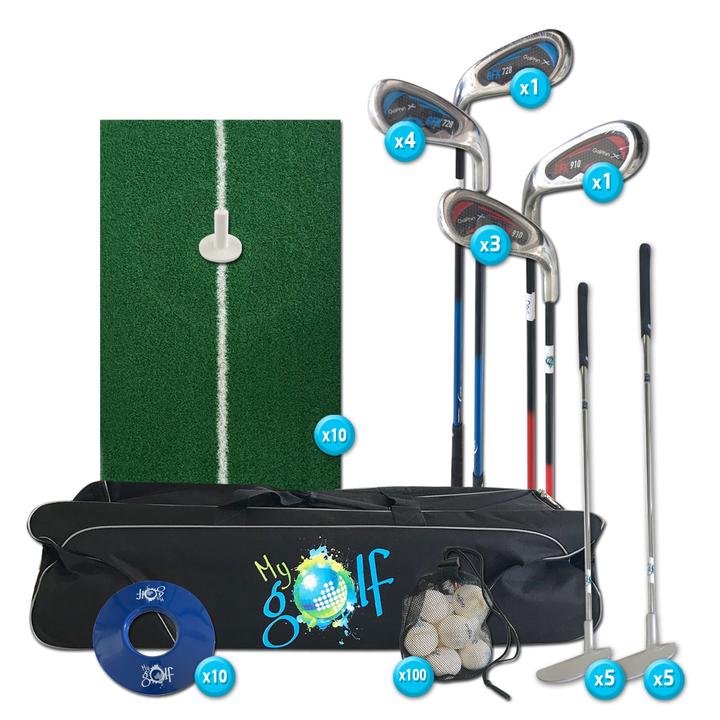 8 x 7 Iron RH
1 x Equipment bag
2 x 7 Iron LH
10 x putter
100 x PVC clicker balls (42mm diameter)
5 x hitting mats with rubber tee
ACT
NSW
NT
QLD

Canterbury-Bankstown
Central Coast
Cessnock
Clarence Valley
Dubbo Regional
Lake Macquarie
Lismore
Maitland
Mid-Coast
Penrith
Shoalhaven
Wagga Wagga
Wollongong

Alice Springs
Darwin
Katherine
Litchfield
Palmerston

Brisbane
Cairns
Toowoomba
Townsville

SA
TAS
VIC
WA

Adelaide Hills
Charles Sturt
Mount Barker
Onkaparinga
Tea Tree Gully
Wattle Range

Clarence
Glenorchy
Hobart
Launceston

Ballarat
Casey
East Gippsland
Frankston
Greater Bendigo
Greater Geelong
Greater Shepparton
Latrobe
Wellington
Yarra Ranges

Albany
Busselton
Esperance
Gosnells
Greater Geraldton
Joondalup
Kalgoorlie-Boulder
Karratha
Port Headland
Stirling
Contact: mygolfschools@golf.org.au
Have any questions about Sporting Schools?