Table Tennis Australia's Spinneroos – Bounce into Table Tennis (Club Connect) program is the ideal entry level program to introduce students to the dynamic sport of Table Tennis through a progressive range of fun-filled activities and exposing them to the various participation opportunities at a local club.
The Spinneroos program encompasses play and skill development to ensure students have a great first experience with Table Tennis. After the initial Club Connect Program, students can apply the basic skills that they have learnt and start a participation journey with their local Table Tennis club.
Spinneroos (Club Connect) is;
Suitable for all ages and abilities
Delivered by an accredited Spinneroos club provider
The perfect first experience with a local Table Tennis club
FUN!
Spinneroos (Club Connect)
We will connect you with your local Spinneroos club provider and they will deliver a
fantastic Spinneroos program for your students. All Spinneroos club providers are trained and endorsed by Table Tennis Australia, are nationally accredited and hold valid Working with Children Checks.
On top of providing a fun and enjoyable Spinneroos program, our Spinneroos coaches will share information about participation opportunities at local clubs (for example, Spinneroos club program or junior program) to your students.
For coaching services, the rate is charged at $77 per hour.
| | |
| --- | --- |
| | |
| 1 coach for up to of 20 students | |
NOTE:  All bookings are also subject to a $100 administration fee.
Please click the equipment tab for information on equipment packages.
Equipment and Optional Extras
Schools can choose from a range of optional extras and equipment packages, or Table Tennis Australia can help customise a package to suit your budget and program needs.
Table Tennis Australia offers equipment options suitable for the school environment and with the flexibility to meet your school's individual needs. The following equipment packages and individual items are available for purchase through Table Tennis Australia and our national equipment partner Table Tennis World. If you cannot find a package below to suit your needs, please contact us and we can arrange a custom order to fit your budget and requirements.
Spinneroos Basic Equipment Package
This package is a great option to introduce students to Table Tennis and uses the philosophy that any table can be a Table Tennis table.

3 x retractable nets
16 x standard rackets
100 standard balls

Spinneroos Standard Equipment Package
A great option if you want a bit more than the basic pack, but not quite as much as the premium pack!

2 x tables (& nets)
2 x retractable nets
20 x standard rackets
100 x standard balls

Spinneroos Premium Equipment Package
The perfect way to kit your school out with durable, premium equipment.

3 x tables (& nets)
20 x standard rackets
100 x standard balls
Individual items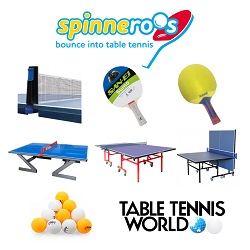 Individual items of equipment can also be ordered to suit your school's needs. The items available include:
Individual table and net - $420
Double Fish Outdoor Leisure AW-168 Table Tennis Table - $699
Le Jardin – Outdoor Table Tennis Table - $1,650
Individual standard rackets - $23 each
Individual outdoor rackets - $26 each
Box of 100 balls - $70 / box
Larger training balls (44mm) - $26 / dozen
Retractable nets - $26 each
Ball scoop / net - $26 each
NOTE: Freight charges apply and will be confirmed upon order.
National or State Player appearance (subject to availability)

To be negotiated with school

One Spinneroos session at the assigned local club/association

(includes venue hire, but does not include transport to the club)
ACT
NT
QLD
VIC
TAS
Tuggeranong region

Casey (C)
Frankston (C)
Greater Geelong

Clarence
National Manager – Participation and Development: Egon Loh
Phone number: 0456 085 589
Have any questions about Sporting Schools?