ANZ Tennis Hot Shots is tennis for kids! The program is designed to help every child, no matter their age or ability to jump in and play tennis. ANZ Tennis Hot Shots is played on smaller courts with modified equipment including lighter racquets, lower nets and low compression balls that don't bounce too high.
Through ANZ Tennis Hot Shots, kids will develop their confidence to rally and score all while playing with their friends. Tennis is a sport that can be played for life and ANZ Tennis Hot Shots provides the foundations to kids for ongoing participation.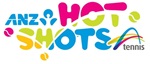 The ANZ Tennis Hot Shots program will be specifically tailored to your school and student's needs. In collaboration with the local coach and club, the program will be constructed in a way that allows for maximum participation and ongoing connection in the local community. We appreciate that all schools will come into the Club Connect program with varying levels of experience with Tennis, therefore a tailored approach will be taken.
Package: To be negotiated with the school and coach however a recommendation of up to 30 children over a 6 week period for 45 minutes to 1 hour each week.
Participant numbers can be negotiated and worked through with each school.
Coach - To be negotiated between school and coach however Tennis recommends a range of $90 - $130 for 6 weeks per child E.g. $100 for 6 weeks x 12 children = $1,200
Bus transport
At a minimum it is recommended that the last week is delivered at the local tennis club so that children and their families can become familiar with the venue. If the local tennis club is close by, a walking bus is recommended with the coach and teacher supervising the walk. If the school has their own mini bus this can also be used.
Alternatively a local bus company can be engaged to hire a mini bus to transport the children E.g. Mini bus hire for 1 hour = $250 - $350
Equipment
If the school does not already have an equipment kit, Tennis recommends an equipment kit for $850 consisting of the below. Alternatively schools can choose from the available equipment list for individual items.
4 x 3m Hot Shots nets
2 x 5.5m Hot Shots nets
20 racquets
2 rolls of barrier tape
4 sets of drop down lines
3 dozen red balls
2 dozen orange balls
2 dozen green balls
1 equipment bag
Student pack
A small take home student pack which is given to each child on the last week at the local tennis club. The pack will consist of the below and cost $15 per child. For example 12 children x $15 = $180
A racquet
Two balls
Barrier tape
ACT
NSW
NT
QLD
Tuggeranong region

Canterbury-Bankstown
Central Coast
Lake Macquarie
Penrith
Wollongong

Darwin
Palmerston
Alice Springs
Litchfield

SA
VIC
WA
TAS

Onkaparinga
Tea Tree Gully
Charles Sturt

Casey (C)
Frankston
Greater Geelong
Yarra Ranges (S)

Stirling
Joondalup
Gosnells
Have any questions about Sporting Schools?