Nelson Mandela said 'Sport has the power to change the world, it has the power to inspire, it has the power to unite people in a way that little else does'.
The wisdom of the great man's words was evident this year at the 2018 Gold Coast Commonwealth Games, which showcased the many things Australians love about sport. Great athletes rising to the occasion competing fiercely but fairly for their country, and great moments of sportsmanship. It was wonderful to see the integration of our Paralympians at the heart of the Games. Our Paralympians are an inspiration to the nation. We salute in particular Kurt Fearnley for all he has achieved in the green and gold and for the example he sets for all in our country.
The Commonwealth Games were just one of many highlights for Australian sport in the past year. Our Winter Olympians and Paralympians performed very creditably on the world stage, with three medals for the Olympic team and our best result at a Paralympic Games for 16 years. Our Socceroos made it to the World Cup final in Russia, a feat not achieved by many traditional football powerhouse nations. The Matildas continue to shine at the highest levels in the world in their sport, and there were many fine individual performances by Australians in many sports. Women's sport continued to grow and prosper, something to be celebrated.
Our elite sportsmen and women only achieve what they achieve because of a relentless commitment to excellence and a willingness to embrace change. We endeavour to put these values into practice in our own organisation. To this end, this year we led, with the Minister for Sport and the Commonwealth Government, the development of Australia's first-ever national sport plan, a long-term vision for success at all levels of sport from community grassroots through to the highest levels of international competition. To combat rising obesity levels in the community, we are increasing our efforts to boost physical activity with the 'Move It Aus' campaign and further promoting awareness of the standards of physical fitness and motor skills that our young Australians should be aiming to achieve, a concept we call physical literacy.
To reflect this, we are changing our name from the Australian Sports Commission to the more contemporary Sport Australia.
The Australian Institute of Sport, wholly owned by Sport Australia, is also changing in response to the changing needs of sports and athletes. More and more the AIS' primary role is to provide the overarching strategic leadership and direction needed by a dispersed and diverse national sporting system. It's doing this by ensuring that our national network of nine sports institutes works effectively together towards common goals and provides world-class support for our athletes and coaches where they and their sporting organisations want it around the country. It's on a mission to ensure that sports have at their disposal the cutting-edge technology and data analytics vital to success today. And it's broadening the support it provides our elite athletes in mental health and skills for life post sport. The demands on our international athletes are becoming ever-greater and it's important that our athletes enjoy life success not just podium success.
Sport 2030, the national sport plan, renewed Australian sport's commitment to integrity in sport with the presentation of the findings of the Wood Review. Australia has a natural commitment to fair play and integrity in sport, but we must be ever vigilant, not complacent. We, and everyone involved in sport, owe it to the athletes, coaches, officials, volunteers, fans and the public at large to ensure that Australian sport is fair and clean, and is seen to be fair and clean.
I thank and congratulate our CEO Kate Palmer for the very effective job she has done in a challenging and busy first year in the role, and our Director of the AIS Peter Conde who is likewise doing an excellent job. They have appointed talented and effective teams to work with them, a sure mark of good leaders.
Finally, a special thanks to Alisa Camplin-Warner, who recently stepped down as Deputy Chair of Sport Australia due to a family move overseas. Alisa is one of the shining lights of Australian sport, a rare Australian Winter Olympic champion and a talented, visionary and effective administrator. She has made an outstanding contribution to our organisation and to Australian sport in her 10 years on our board and we wish her all the very best in her next endeavours.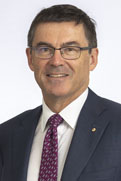 John Wylie AM
Chair