Title
Highlight

Gold Coast 2018 Commonwealth Games — the home Games

Australia delivered an outstanding home Games and topped the medal tally with a total of 198 medals. The broader community connection was strongly evident, with many stories of sporting achievement shared and celebrated with the Australian public, inspiring and contributing to a sense of national pride.
The AIS and Commonwealth Games Australia worked in partnership to deliver a range of initiatives to support athletes and coaches, including the provision of recovery services, performance planning and analysis, coaching and servicing roles, and the Global Coaches House and Sideline Champions initiatives.
The 2018 Global Coaches House, which provided a learning and networking opportunity for national and international sport coaches, was a partnership between the AIS, International Council for Coaching Excellence, Griffith University and the Commonwealth Games Federation.
The AIS delivered the High Performance Women Coaches Program to improve development pathways and support increased representation of women in Australia's elite coaching ranks and at major benchmark events.

Athlete Wellbeing and Engagement

The AIS hosted the inaugural two-day Athlete Wellbeing Summit (the Summit) in June 2018. The Summit was officially opened by Minister for Sport, the Honourable Bridget McKenzie and Sport Australia Deputy Chair, Alisa Camplin-Warner, with Ian Thorpe as a keynote speaker.
Over 200 delegates from a variety of national and international professional and non-professional sports, current and former athletes, wellbeing practitioners, and system and network partners attended.
The Athlete Wellbeing and Engagement team officially launched its strategy, which provides leadership to the Australian sports sector in prioritising athlete wellbeing as a core component of high performance sport. Delegates were able to contribute their ideas to guide a national action plan across the five key pillars of the Athlete Wellbeing and Engagement Strategy. System and key partners collaborated and built relationships to ensure athletes are better supported both within sport and beyond.

Sport 2030—a national plan for sport

In May 2017, the then Minister for Sport, the Honourable Greg Hunt announced that a national plan for sport would be developed.
In 2017–18, Sport Australia coordinated a national consultation process involving 13 stakeholder forums, nine run in partnership with state departments of sport and recreation; three NSO forums in Brisbane, Melbourne and Sydney; and a health promotion/ prevention forum facilitated by the Commonwealth Department of Health. There was also an online submission process via Sport Australia's website and a community perceptions survey. Responses were analysed and incorporated into the drafting of Sport 2030.
On 1 August 2018, the Minister for Sport, the Honourable Bridget McKenzie, launched Sport 2030. The plan is based on four key priorities: building a more active Australia; achieving sporting excellence; safeguarding the integrity of sport; and strengthening Australia's sport industry.
From 2018-19, the ASC will be known as Sport Australia, and will lead the implementation of Sport 2030.

Sporting Schools

Sport Australia's Sporting Schools program, which is successfully delivered by Sport Australia, schools and NSOs, is an Australian Government initiative designed to help schools increase children's participation in sport and to connect them with community sport.
In 2017–18, the program was successfully rolled out to secondary schools, with a total of 487 schools receiving funding over the financial year. The secondary schools program focuses on year 7 and 8 students, particularly girls and those in low socioeconomic areas, with funding priority given to those schools who demonstrate alignment to these project goals.
The Sporting Schools program now has 7,705 schools registered, representing 81 per cent of all schools across Australia. Total student attendance in 2017–18 was 1,634,766, bringing the total number of attendances to 4.3 million since the program commenced in 2015.

Physical literacy

The Physical Literacy Project was established to define physical literacy and bring a common language and approach to developing adequate physical literacy to support lifelong participation.
Building on the release of the Physical Literacy Definition and Standard in 2017, Sport Australia commissioned La Trobe University to lead the Physical Literacy Pilot Program. This pilot seeks to test
a catalogue of physical literacy approaches among diverse population groups and participation settings to determine appropriate methods for implementation and adoption of physical literacy in Australia.
Design workshops were held in early 2018 across a broad range of national, state and local partners to establish intervention approaches to be trialled.
The Australian Research Alliance for Children and Youth commenced research around intervention and engagement approaches that would involve parents in child development and sport participation outcomes.
This research is being used to design behaviour change initiatives across varying parenting segments.

Child safe sport

Sport Australia has a steadfast commitment to ensuring that all involved in Australian sport have a clear understanding of what constitutes child safe sport.
In November 2017, after three years of research, engagement and
consultation with the Australian sport sector and child safe experts, Sport Australia delivered a child safe sport framework to NSOs which included an associated toolkit and education program that will build and support a safeguarding culture at all levels of sport.
The toolkit will help NSOs implement child safe approaches across their sports. It is part of a step-by-step guide to creating and strengthening child safe policies and practices that focus on developing child safe cultures and building the confidence of personnel in sport to take appropriate action.
Sport Australia hosted 15 workshops and learning sessions for NSOs, national sporting organisations for people with a disability (NSODs) and sector partners in 2017–18.

AIS Annual Sport Performance Awards
The fourth annual AIS Sport Performance Awards [ASPAs] were held on 14 December 2017. Almost 400 guests gathered to recognise and celebrate the outstanding achievements of Australian athletes, teams, coaches and administrators. Awards were presented across ten categories, including two people's choice awards decided by public vote, for performances achieved during the 2017 calendar year.
Australia's women's football team, the Matildas, and superstar striker Sam Kerr were the big winners with fans, with Kerr awarded ABC Sports Personality of the Year, and the Matildas voted as Public Choice Team of the Year. Completing a trifecta of awards for the Matildas, Alen Stajcic was recognised by an AIS panel of experts as Coach of the Year.

To think that the public voted for us is an unbelievable honour, and one that we are really proud of.
– Alen Stajcic

The Best Sporting Moment, voted on by national media, was taken out by world champion boxer Jeff Horn for his underdog victory against Manny Pacquiao. Winter sports took out three major awards—Male Athlete of the Year (Scott James), Team of the Year (Australian Freestyle Skiing and Snowboard) and Para Performance of the Year (Mitchell Gourley).
Olympic gold medallist and hurdler Sally Pearson was named Female Athlete of the Year for her inspirational world championship victory in the 100m hurdles in London, while young track cyclist Kelland O'Brien was named Emerging Athlete of the Year as a prominent member of Australian men's track pursuit team.
The inaugural AFL women's competition was a major milestone for women in sport in 2017 and Susan Alberti was presented with the Award for Leadership for her vision and influence in driving the competition's launch. Alberti said:

It's not about me, it's about these young women who have aspired to play the game and haven't been recognised, and now we have nearly half a million in the country playing the game. (…) this is for them.

President of the Australian Paralympic Committee, Glenn Tasker, was honoured for his long service to sport, particularly his dedication to increasing opportunities for athletes with a disability.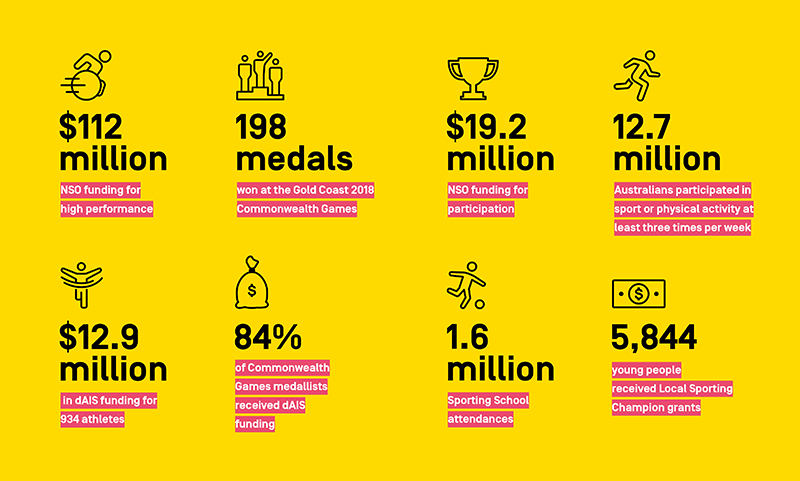 Key statistics
$112 million in NSO funding for high performance
198 medals won at the Gold Coast 2018 Commonwealth Games
$12.9 million in dAIS funding for 934 athletes
84% of Commonwealth Games medallists received dAIS funding
$19.2 million NSO funding for participation
12.7 million Australians participated in sport or physical activity at least three times per week
1.6 million Sporting School attendances
5,844 young people received Local Sporting Champion grants