For information on our organisation, please visit the About page or, view the organisational structure with team and contact details below.
The Board
The ASC is governed by a board of commissioners who bring a range of expertise to guide the work of the ASC. Our board includes former athletes, business people and journalists, each with extensive, first-hand knowledge of Australia's sporting landscape.
Josephine Sukkar AM
Chair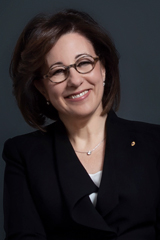 Josephine is a professional company director who works across a range of industries, including property, construction, finance, sport, the arts, medical research and social services.
Josephine is Principal of Buildcorp, and serves on a number of private, public, government and not-for-profit boards, including The Washington H. Soul Pattinson and Company Limited, Growthpoint Properties Australia, Opera Australia, the Australian Museum, Property Council of Australia, Green Building Council of Australia, Centenary Institute of Medical Research and the Buildcorp Foundation.
She is president of Australian Women's Rugby and through Buildcorp has been a major sponsor of rugby in Australia for nearly 30 years.
Josephine is a Fellow of the University of Sydney, and in 2017 she was recognised for her services to the community, the arts and sports in the Queen's Birthday Honours list.
Stephen Moneghetti AM
Deputy Chair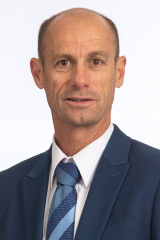 Steve Moneghetti AM represented Australia in the marathon at four Commonwealth Games, winning Gold (1994), Silver (1990) and two Bronze (1986 and 1998) medals. Mr Moneghetti achieved three top 10 finishes in his four appearances at the Olympic Games (1988, 1992, 1996 and 2000). He also attended six World Athletics Championships, winning a Bronze medal in the marathon event in Athens in 1997. Mr Moneghetti retired as an athlete in 2000.
Mr Moneghetti was Mayor of the Commonwealth Games Village at the 2006 Melbourne Commonwealth Games and the Australian team's Chef de Mission for the 2010 Delhi and 2018 Gold Coast Commonwealth Games. From 2001-2010 he served as Chair of the Victorian Institute of Sport, and also chaired the Victorian State Review into Physical and Sport Education in schools (the Moneghetti Report).
Mr Moneghetti is active in the corporate community and is currently a sports consultant with his own business. Steve is also on the executive board of the Victorian Olympic Council.
He received an Australian Sports Medal in 2000 and a Centenary Medal in 2001. In 2014 Mr Moneghetti was awarded an Order of Australia medal for significant service to athletics as a marathon runner, administrator and mentor to young athletes.
Mr Moneghetti was appointed to the Board on 22 June 2015 and is a Member of the ASC Governance and Executive Performance Committee.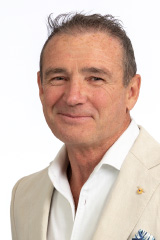 Pat Farmer is a multiple world record holder for endurance running. He has run from the North Pole to the South, and across Australia, New Zealand, Vietnam and North America. Mr Farmer served eight years as a Member of Australia's Parliament, with three years as Parliamentary Secretary for Education, Science and Training.
Winner of 'Achiever of the Year' (2000), awarded by Prime Minister John Howard. Mr Farmer has raised millions of dollars for causes during his 20 year running career, including Lifeline, Cancer Council, Australian Red Cross and Diabetes Australia.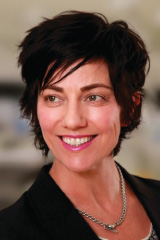 Jennifer Morris was appointed as a Non-Executive Director of Fortescue Metals Group in November 2016. She is a former Partner in the Consulting Division of Deloitte, where she specialised in complex large-scale business transformation programs and strategy development.
Ms Morris holds a senior position at the Minderoo Foundation as Chief Executive Officer of the Walk Free Foundation and part of her role is leading the Bali Process Government and Business Forum. She has senior corporate governance experience and is currently a Commissioner of the Board of Australian Sports Commission, a former Director of the Fremantle Football Club and the Western Australian Institute of Sport. She was also Chair of the Board of Healthway, the West Australian Government's peak health promotion body.
Ms Morris was previously a member of the Australian Women's Hockey Team, where she won Olympic gold medals at the Atlanta 1996 and Sydney 2000 Olympic Games. In 1997, she was awarded a Medal of the Order of Australia (OAM). She is a Member of the Australian Institute of Company Directors, a Fellow of Leadership WA, an affiliate member of Chartered Accountants Australia and New Zealand, a member of the Vice Chancellor's List, Curtin University and holds a Bachelor of Arts (Psychology and Journalism) received with Distinction and completed the Finance for Executives at INSEAD.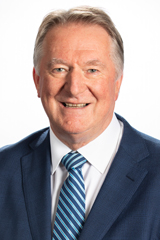 Andrew Ireland is a former AFL player and former highly successful football administrator who was involved with several premierships throughout his career.
Ireland joined the Sydney Swans in 2002 as General Manager of Football before taking over as CEO in September 2009, a role he held until his retirement in December 2018. Prior to these positions, he held the role of CEO at the Brisbane Bears and Brisbane Lions between 1990-2001.
Ireland oversaw a strong and successful football program during his time at the Swans along with outstanding growth in commercial areas of the Club. He holds a Bachelor of Science, is a Graduate Member of the Australian Institute of Company Directors and is a Life Member of the AFL, the Sydney Swans and the Brisbane Lions. In December 2018, he was appointed as a Commissioner of Sport Australia.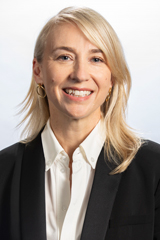 Amanda Laing is an experienced media executive who has worked across free to air television, subscription television, print, digital and video on demand, with particular expertise in the management and exploitation of content and rights, the structuring and negotiation of sports rights deals and media mergers and acquisitions.
Amanda began her media career as General Counsel for ACP Magazines, with responsibility for the legal affairs of its businesses in Australia, New Zealand, South East Asia and the UK. She was then Group General Counsel across the magazine, television, digital, ticketing and events businesses of Nine Entertainment. Following the listing of the Nine business on the Australian Stock Exchange, Amanda was appointed Commercial Director and then Managing Director of Nine Entertainment Co. (owner of Channel 9). She was also on the Board of Nine's subscription video on demand business, STAN.
Amanda was a member of the Australian Rugby League Commission until March 2020. She joined the Board of Sport Australia in January 2019.
Throughout her career Amanda has advised Boards on a broad variety of legal, regulatory and commercial issues and held Board positions with media companies and industry bodies. Amanda is currently the Chief Commercial Officer of Foxtel.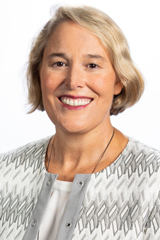 Pippa Downes is a respected Non-Executive Director with over 25 years of distinguished career achievements in the international business and finance sector. Pippa currently sits on the board of the Australian Technology Innovators (Infotrack, LEAP legal software), ALE Property Group, Windlab Limited, the ASX Clearing and Settlement companies, and the Sydney Olympic Park Authority. Pippa is a member of the ASX Disciplinary Tribunal and was recently appointed as a Commissioner to Sport Australia. Pippa is a former Director of Swimming Australia and the Swimming Australia Foundation.
Pippa has had a successful international banking and finance career and has led the local derivative and investment arms of several of the world's premier Investment Banks. Her most recent role was as a Managing Director and Equity Partner of Goldman Sachs in Australia. She is a member of the Australian Institute of Company Directors and Women Corporate Directors and in 2016 was named as one of the Westpac/AFR's 100 Women of Influence for her work in diversity.
She has a Master's in Applied Finance from Macquarie University and Bachelor of Science (Business Administration) from University of California, Berkeley. Pippa was a dual international athlete having been a member of the Australian Swim Team and represented Hong Kong at the International Rugby Sevens.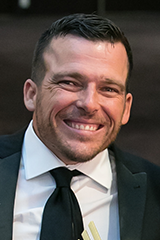 Kurt Fearnley AO is a three-time Paralympic gold medallist and two-time Commonwealth Games gold medallist.
His incredible athletics career for Australia spanned five Paralympic Games campaigns, culminating with his wheelchair marathon victory at the 2018 Gold Coast Commonwealth Games.
He has won more than 40 marathons, including New York, Chicago and London, and is the 2019 NSW Australian of the Year. In 2009 he crawled the Kokoda track in Papua New Guinea to raise awareness of men's health.
Mr Fearnley is an icon and advocate for people with disabilities in sport and the broader community. He is a board member of the Australian Paralympic Committee, Newcastle Permanent Charitable Foundation and member of the International Paralympic Committee's Athlete Advisory Council.
He was appointed an Officer of the Order of Australia in 2018, and the same year received an Honorary Doctorate from Griffith University for his contribution to sport and disability advocacy. He has a Bachelor of Education and Bachelor of Human Movement from Charles Sturt University.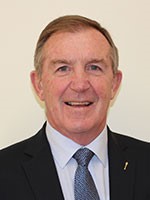 Hugh Delahunty is a former AFL player and politician with extensive experience in board governance, sport policy, professional and grassroots sport.
Mr Delahunty played for Essendon in the Victorian Football League in the 1970s and has played and coached sports included football, basketball, tennis, swimming and golf.
As Chairman of Commissioners at Mildura Rural City Council in 1995-1996 he oversaw the amalgamation of three councils, and was the first mayor of the restructured Horsham Rural City Council.
Mr Delahunty was elected a Member of the Victorian State Parliament from 1999 to 2014 and served as Minister for Sport and Recreation and Minister for Veterans' Affairs.
He served on the board of VicHealth from 2003 to 2010 and has a wide variety of experience and knowledge regarding regional and rural issues.
In 2017 he was appointed Administrator at Central Goldfields Shire Council to restore good governance and operations.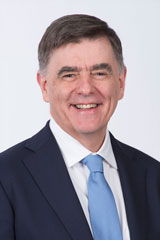 Dr Brendan Murphy commenced as the Secretary of the Department of Health and subsequent ex-officio board member role on 13 July 2020.
Prior to his appointment as Secretary, Brendan was the Chief Medical Officer for the Australian Government and prior to this, the Chief Executive Officer of Austin Health in Victoria.
Dr Murphy is:
a Professorial Associate with the title of Professor at the University of Melbourne
an Adjunct Professor at Monash University
a Fellow of the Australian Academy of Health and Medical Sciences
a Fellow of the Royal Australian College of Physicians
a member of the Australian Institute of Company Directors.
He was formerly CMO and director of Nephrology at St Vincent's Health, and sat on the Boards of the Centenary Institute, Health Workforce Australia, the Florey Institute of Neuroscience and Mental Health, the Olivia Newton-John Cancer Research Institute and the Victorian Comprehensive Cancer Centre. He is also a former president of the Australian and New Zealand Society of Nephrology.
Return to top