In 2018, Sports Coordinator Jacob Black was looking for something to challenge his students at Binnaway Central School and develop their skills. He found Sporting Schools and his students have been reaping the benefits ever since.
"Our school is in the Central West of NSW. Being from a small country town, there is very limited access to organised sport. The Sporting Schools program gave our primary and secondary students the opportunity to be a part of a team, build confidence and learn new skills," Jacob said.
"It's great to see the students with these huge smiles on their faces – they're the reason we run the program each term! And some of them have got involved with the local competition which is great."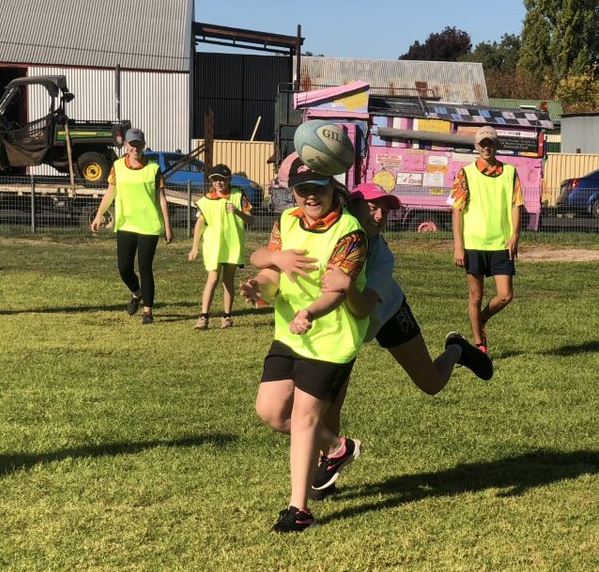 With a high number of Aboriginal children enrolled at the school, Jacob chose Rugby Australia's Deadly 7s program to encourage his students to get involved in sport and to promote the broader benefits of getting active.
"Having read about the Deadly 7s program I knew that it was not only curriculum aligned but that it was delivered in a way that respected Indigenous culture.
"Apart from introducing the kids to rugby, I knew it also educated them on the importance of attending school, living a healthy lifestyle, teamwork and connecting with their culture."
Located on Gamilaroi Country, celebrating Indigenous culture is important to Binnaway Central School. They integrate Traditional Indigenous Games (TIG) into PDHPE programs and sport and have a Student Aboriginal Education Team, which helps plan and implement programs and events to celebrate Indigenous culture at the school.
When asked what Connecting to Country means to Binnaway Central School, Jacob replied,
"It means being in touch with Gunimaa (Mother Earth). It means respecting our animals, our totems, and our Country. If we take care of Gunimaa, Gunimaa will take care of us."
Have any questions about Sporting Schools?