Cricket Australia's programs have been specifically designed for Sporting Schools with the aim of increasing participant's confidence and competence. Programs are also supported by school resources including curriculum aligned cricket content for schools to use.
Woolworths Cricket Blast
Cricket Australia programs for primary schools use a 'learn through play' philosophy and culminate with modified T20 games like a Woolworths Cricket Blast program. These programs are made up of practical cricket activities that focus on fun, fitness and friendships.
Schools benefit from:
Flexible delivery – 4-6 sessions to suit your needs
Coach delivered or teacher delivered programs
Resources – introduce new cricket-themed content to your curriculum
Secondary School Programs
Cricket Australia offers two curriculum aligned, engaging and inclusive programs for secondary school students in Year 7 and 8 that use cricket as the vehicle for promoting movement and physical activity.
Cricket Skills and Games is an exciting new teacher or coach delivered program that allows students to learn through movement by using modified games for skill development. The final week of the program consists of modified T20 games which are designed by the students themselves.
Cricket Australia is excited to offer a new Female Cricket Health & PE program for Year 7 and 8 secondary school girls. The program is designed with a holistic view of physical activity which contributes to social, physical and community well-being. It also promotes a positive and safe learning environment with reduced barriers to participation for female students.
Schools have the option to purchase an equipment kit with their cricket program.
Primary School Kit = $450
Secondary School Kit = $400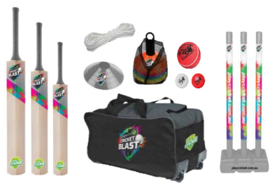 For more information contact sportingschools@cricket.com.au
Teachers
Teachers can deliver cricket in Sporting Schools by meeting the requirements below:
Hold a valid state and/or territory teacher registration
Confirm adequacy of insurance
Cricket Australia's Sporting Schools Accreditation Course
Coaches
To become a coach and deliver cricket in Sporting Schools please ensure you are working towards the following requirements:
Be aged 18 years or over
Hold a current Working With Children Check (validity of no less than 3 months)
Confirm adequacy of insurance
Cricket Australia's Sporting Schools Accreditation Course
Coaching Providers
Sporting Schools is an Australia-wide program in partnership with over 30 national sporting organisations (NSO), of which the Cricket Australia is one.
The Cricket Australia coordinates all Sporting Schools programs and do not require external coaching providers. For further information please contact Cricket Australia.
Phone: 1800 CRICKET (1800 274 253)
Email: sportingschools@cricket.com.au
Have any questions about Sporting Schools?