OzSquash is a fun, play-based program designed to develop childrens' hand-eye coordination, striking and other sporting skills essential for squash, life-long health and wellbeing.
OzSquash uses a 'Playing for Life' approach to develop basic squash specific skills and concepts, as well as other important physical and cognitive skills, through fun games and activities.
The major emphasis is on maximum participation, high levels of activity in a fun, inclusive and safe environment using activities that are easily changed, modified or adapted.

The OzSquash Sporting Schools program for primary schools consists of four or five ACHPER approved 45 minute to one hour lessons. The lessons are based on the national OzSquash experience and can be conducted by a local squash coach or a teacher. There are a range of packages to suit the needs of your school:
External Coach Delivered - These packages provide the full OzSquash experience with an OzSquash accredited coach.
Teacher Delivered - These packages provide a flexible affordable experience that supports teachers to deliver OzSquash, both for the first time or as an experienced deliverer.
All packages include:
Free access to our online portal (usually $99)
OzSquash learning package which comes complete with lesson plans
Opportunity to complete a short 15 minute quiz to gain Squash Australia OzSquash coach recognition
Opportunity to purchase our OzSquash equipment kit
Get your school ready to play Squash with an OzSquash equipment kit. The OzSquash Coaches Pack is durable and versatile in continuing to develop physical literacy and life skills in schools.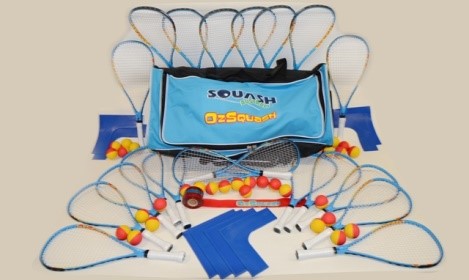 The OzSquash Coaches Pack is valued at $299 plus freight and includes:
One bag
20 modified squash racquets
30 balls
Corner markers
One roll of line marking tape
Teachers
Teachers can deliver OzSquash in Sporting Schools by meeting the requirements below.
Hold a valid state and/or territory teacher registration
Confirm adequacy of insurance
Coaches
To become a coach and deliver squash in Sporting Schools please ensure you are working towards the following requirements:
Be aged 18 years or over
Hold a current Working With Children Check
Confirm adequacy of insurance
Coaching Providers
Sporting organisations who wish to become a coaching provider for Squash Australia and deliver in Sporting Schools must meet the requirements below:
You will need to:
Hold a valid ABN or declare ABN exempt
Confirm adequacy of insurance
Agree to Squash Australia's Memorandum of Understanding
NOTE: All coaches that operate under the coaching provider must meet individual squash coach registration requirements.
Squash Australia Resources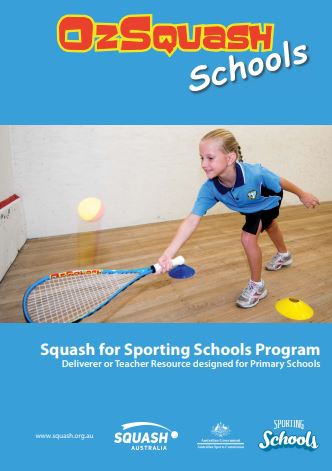 The OzSquash Sporting Schools Manual is a coach and teacher resource designed for use in Primary Schools.
This five lesson program follows the Playing for Life philosophy and comprises of start out, get into it and finish up components.
Each lesson has a specific objective allowing students to learn squash specific skills and concepts as well as other important physical and cognitive skills via fun games.
Download the OzSquash Sporting Schools Manual.
For the coaches out there, we also have all the teaching books you need to elevate your pupils' training. Choose from over 20 different manuals in categories such as strength, psychology, training, nutrition and first-aid treatment. To view and purchase these manuals, please visit the Squash Australia e-Shop.
Have any questions about Sporting Schools?