Welcome to our Day 2 summary of the nation's premier sport conference, World Class to World Best (WC2WB), where we will be providing highlights throughout the day from some of the leading experts in sport and innovation.
After Day 1's focus on 'Courage' and 'Belonging', today's presentations begin with a series of conversations about the Win Well vision, insights for Women in High Performance Coaching and the Countdown to Paris. In the afternoon we delve into the themes 'Connection'.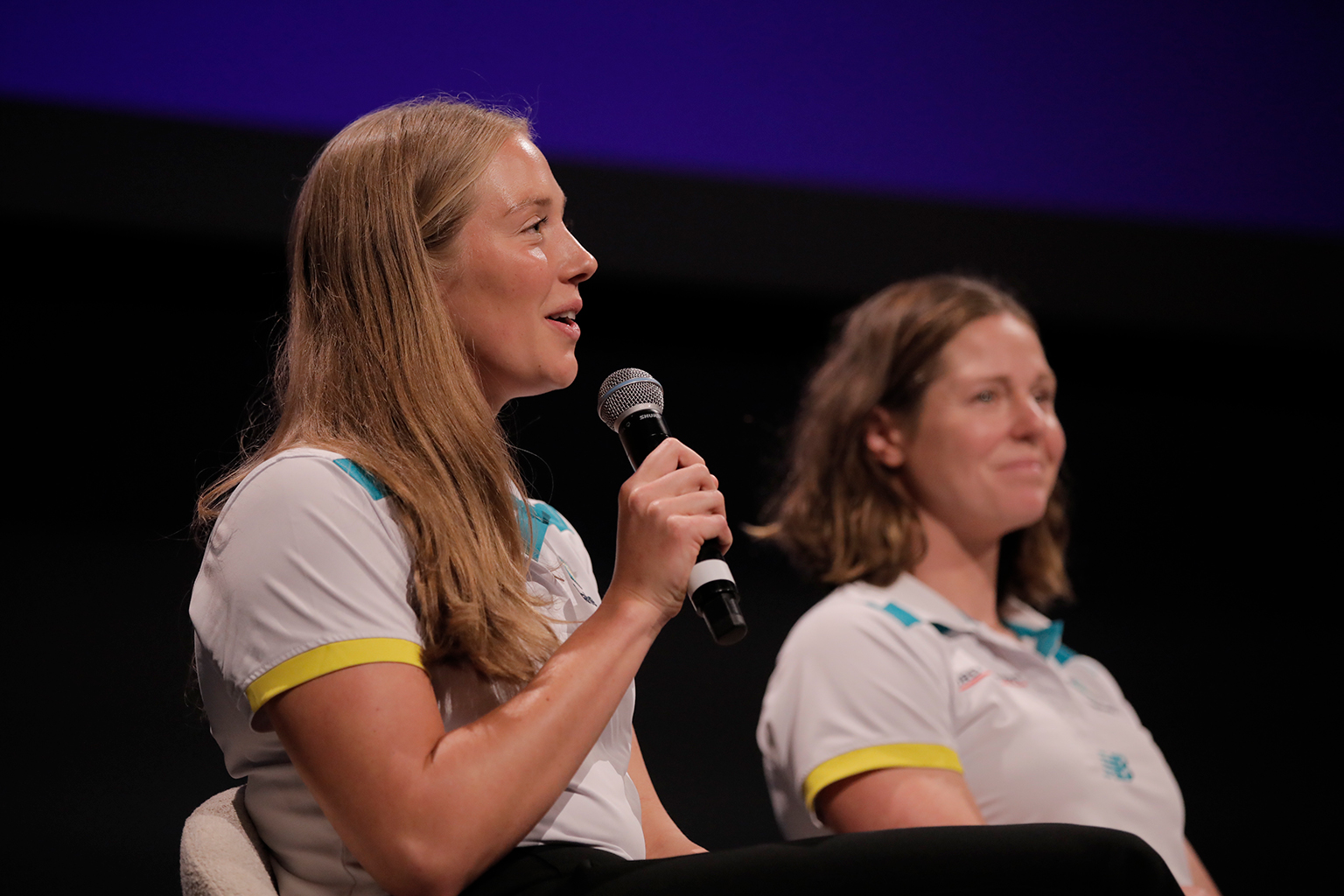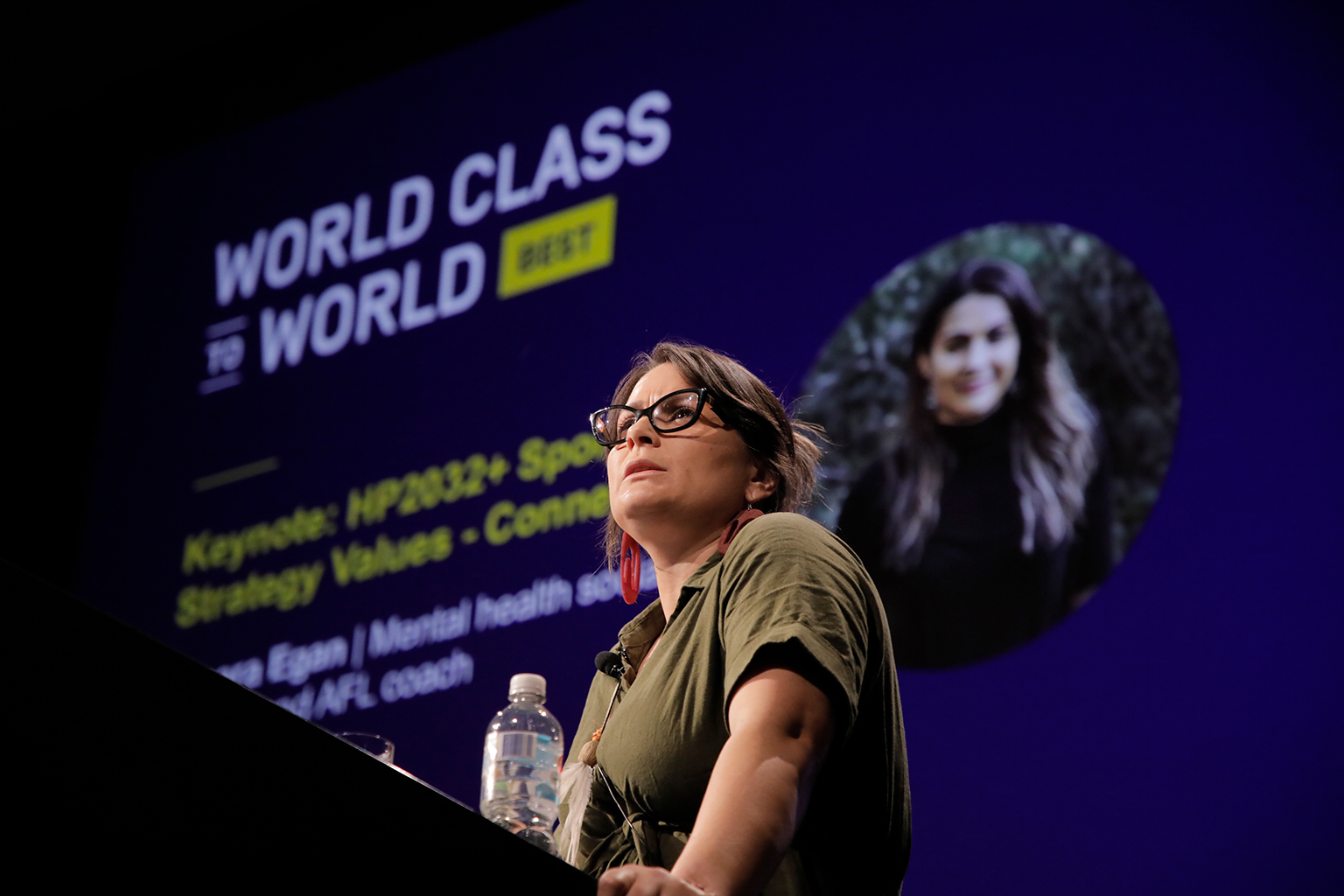 /*w-100*/ /*w-100*/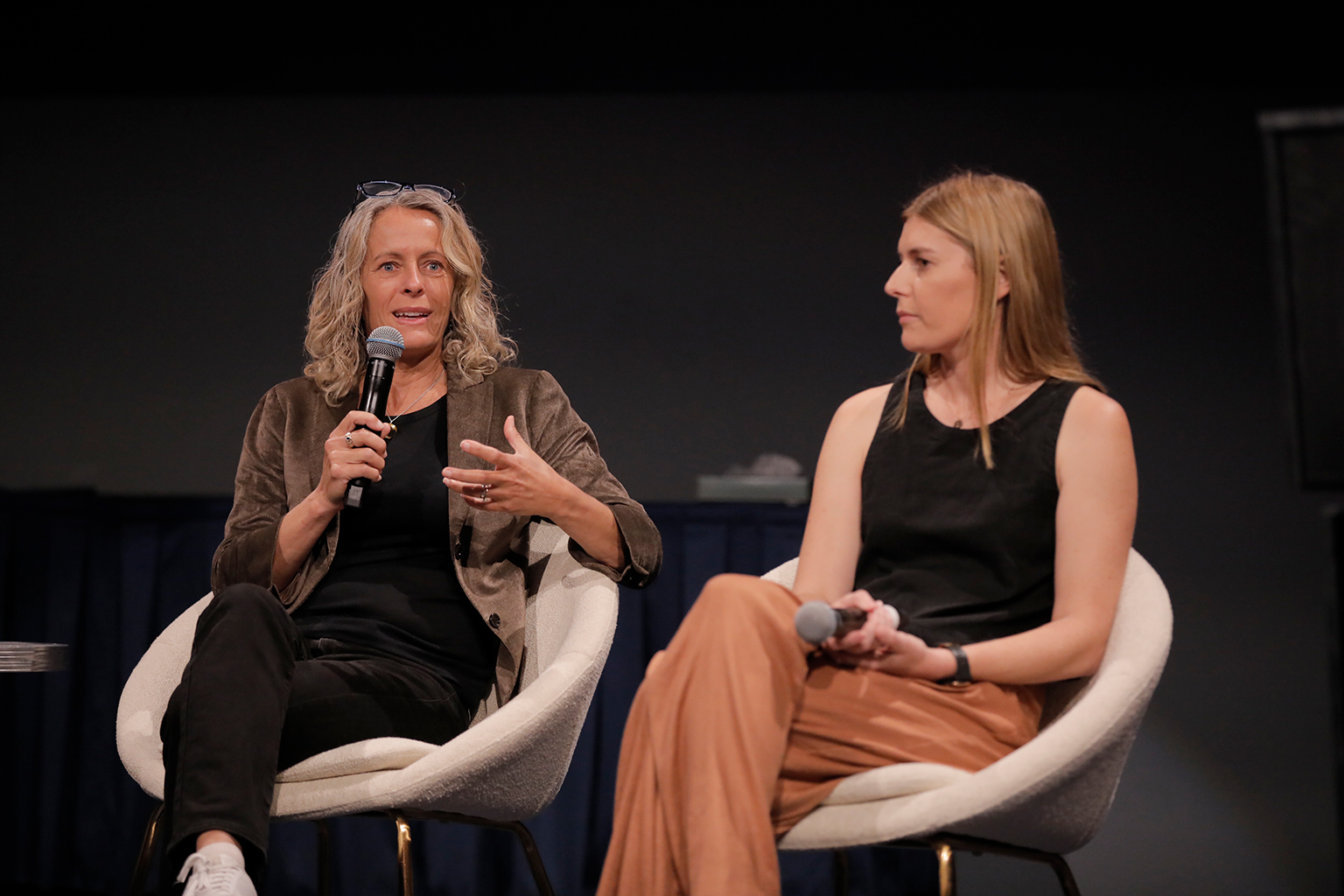 /*w-100*/ /*w-100*/
/**/ /**/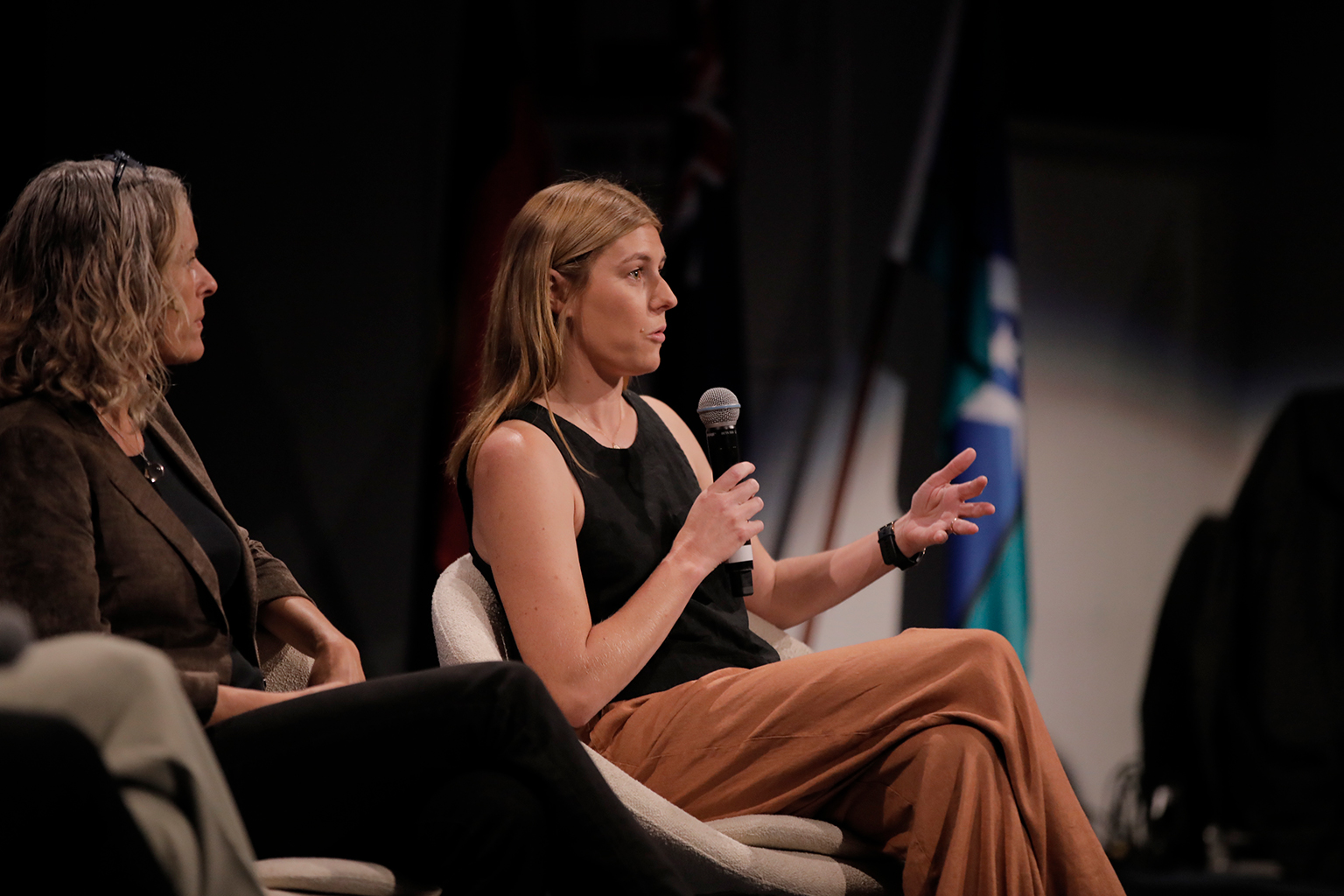 /*w-100*/ /*w-100*/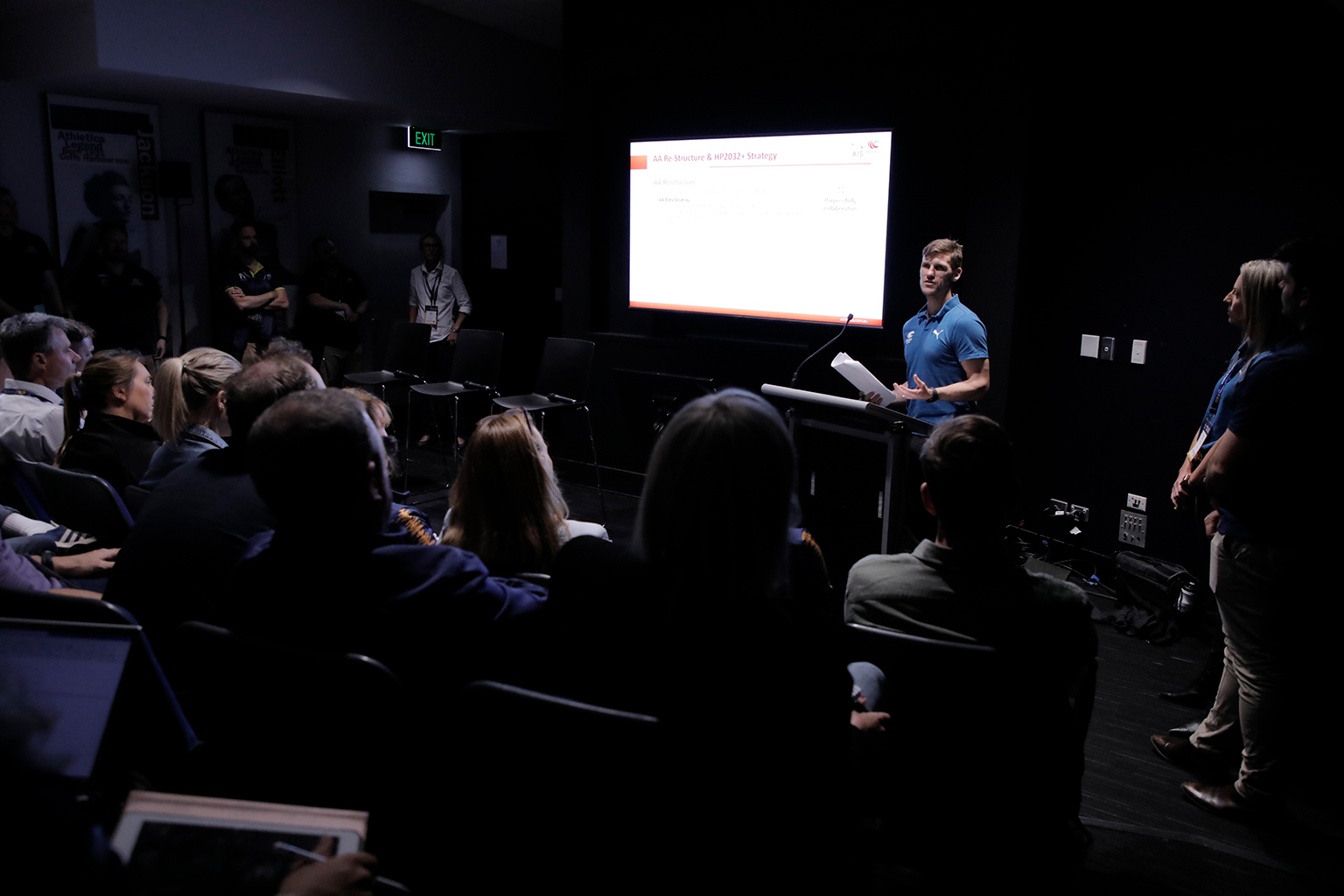 /*w-100*/ /*w-100*/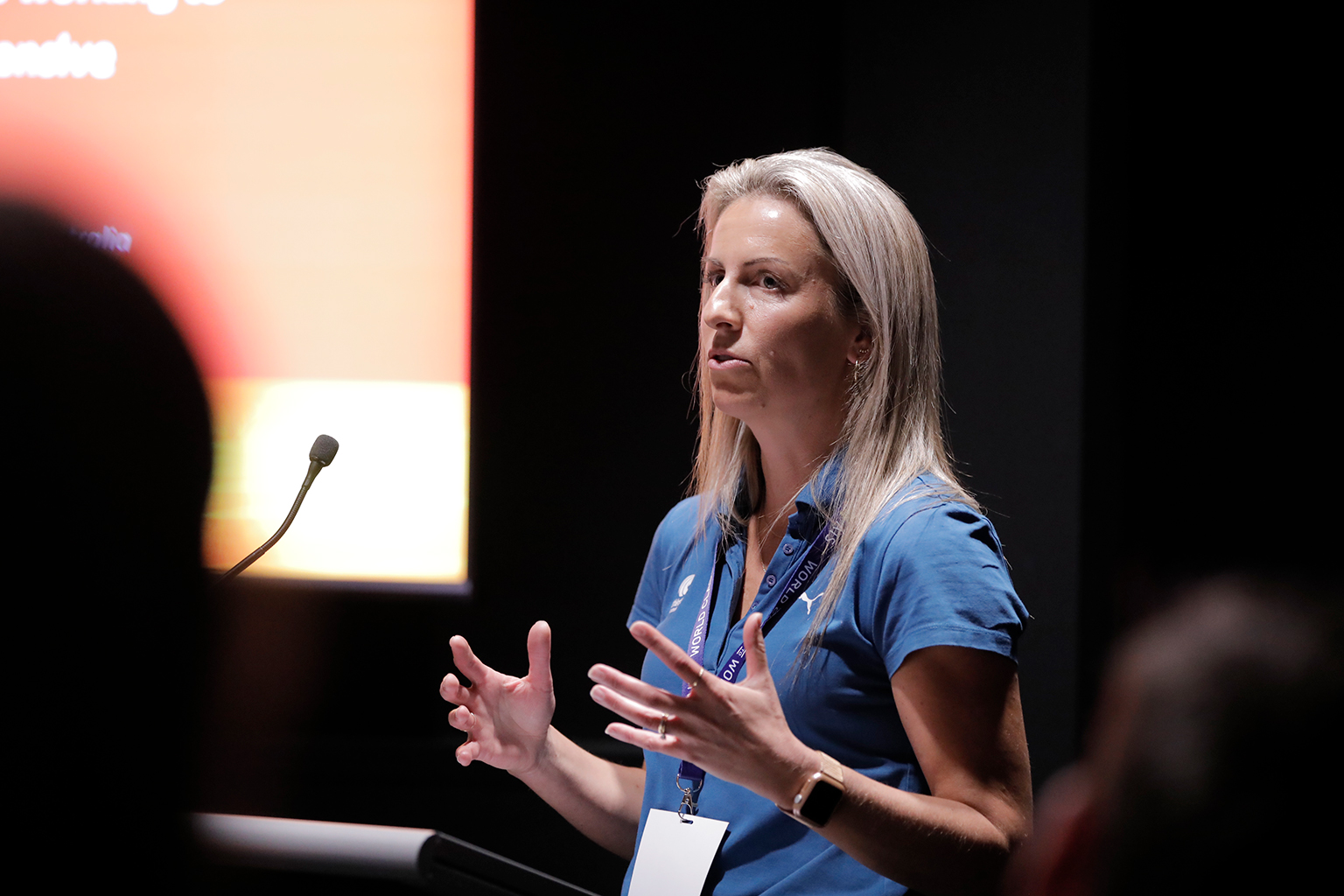 /*w-100*/ /*w-100*/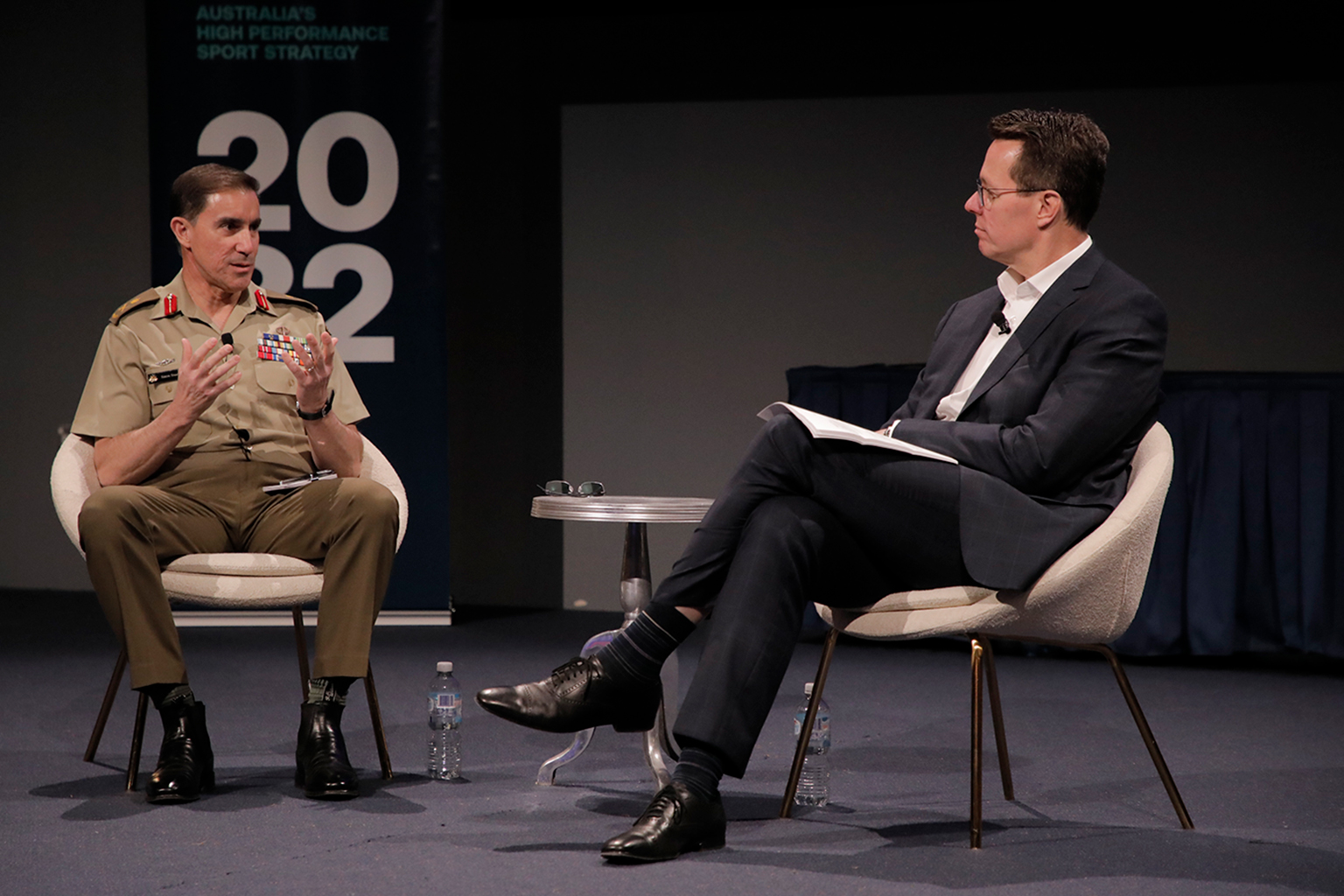 /*w-100*/ /*w-100*/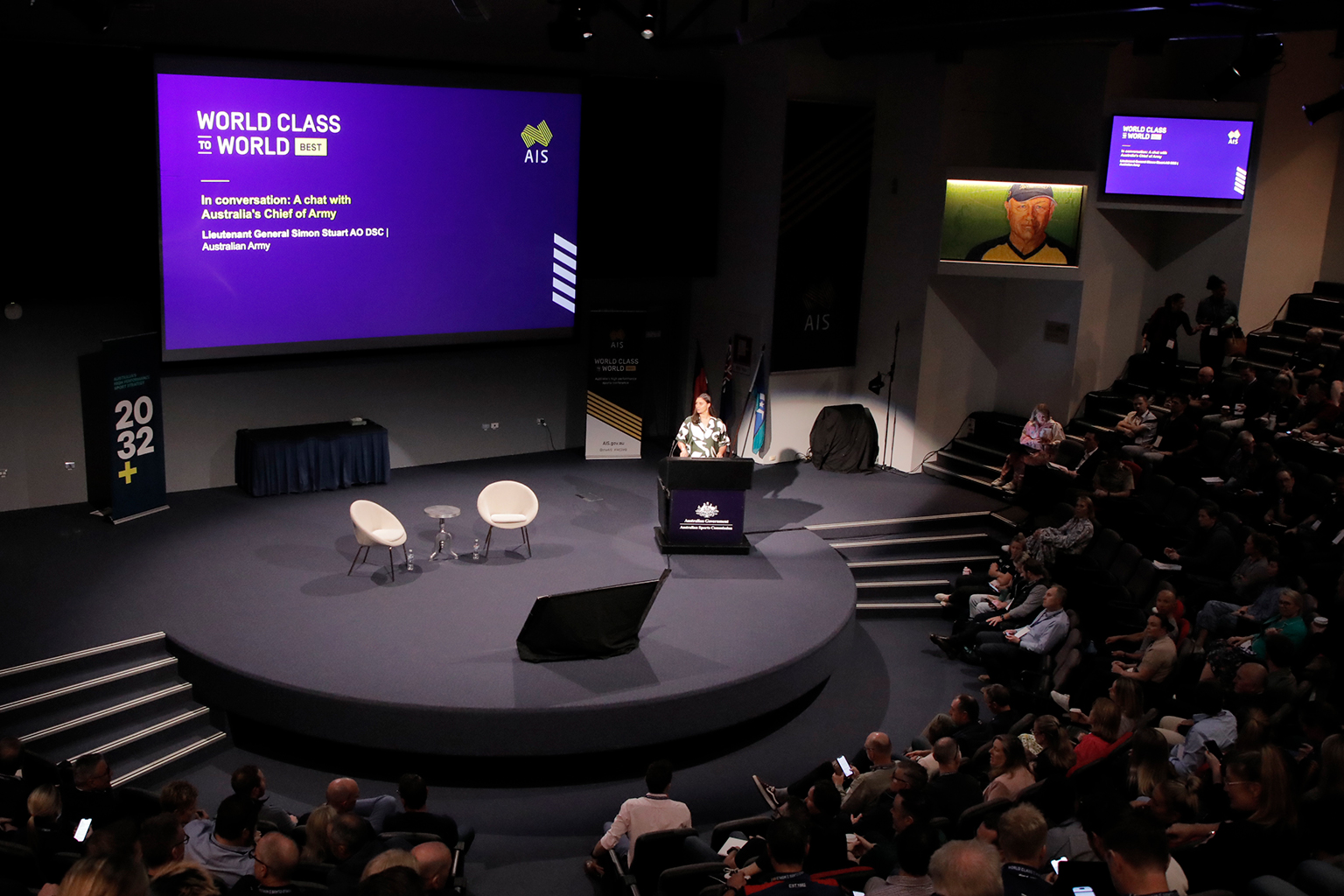 /*w-100*/ /*w-100*/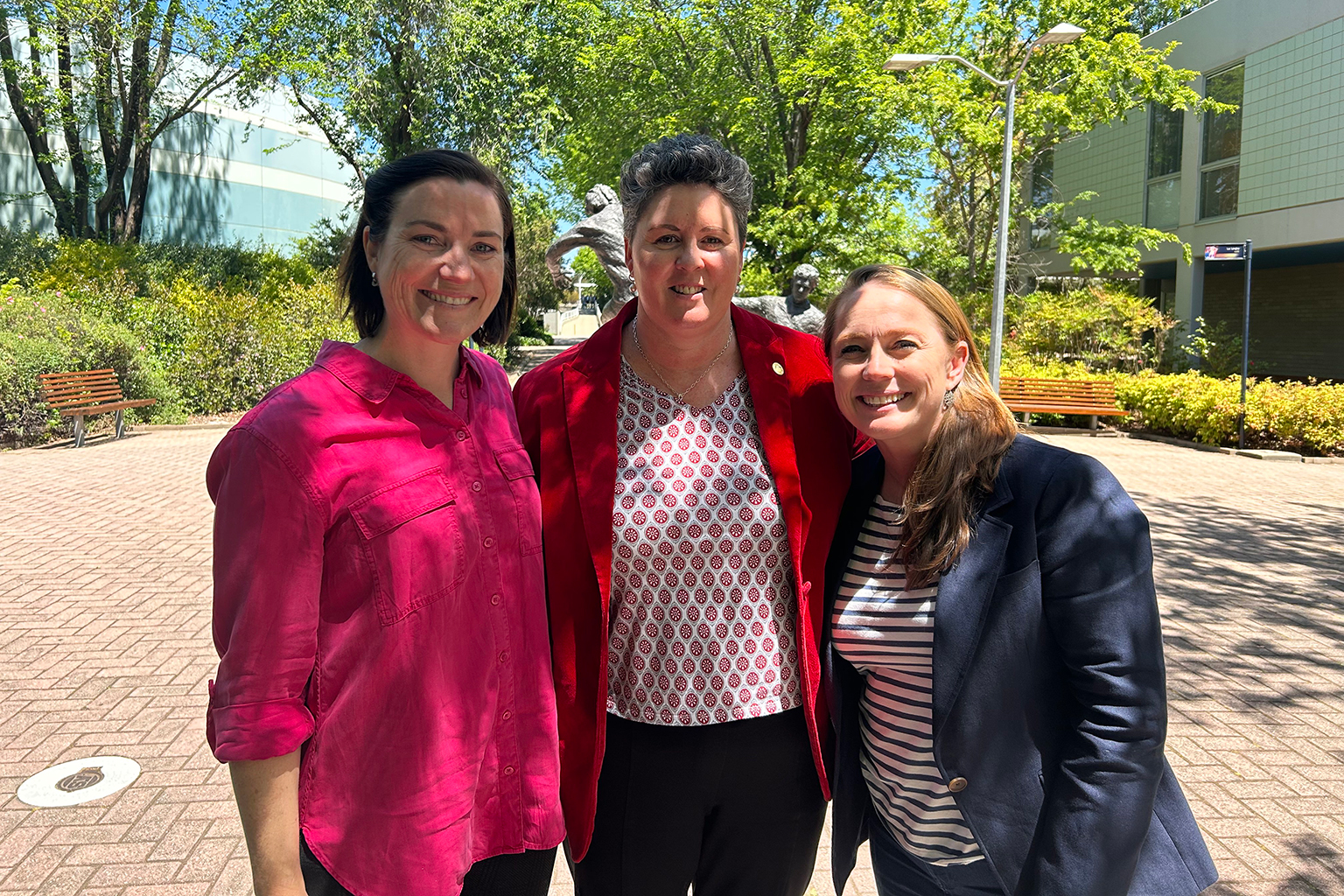 /*w-100*/ /*w-100*/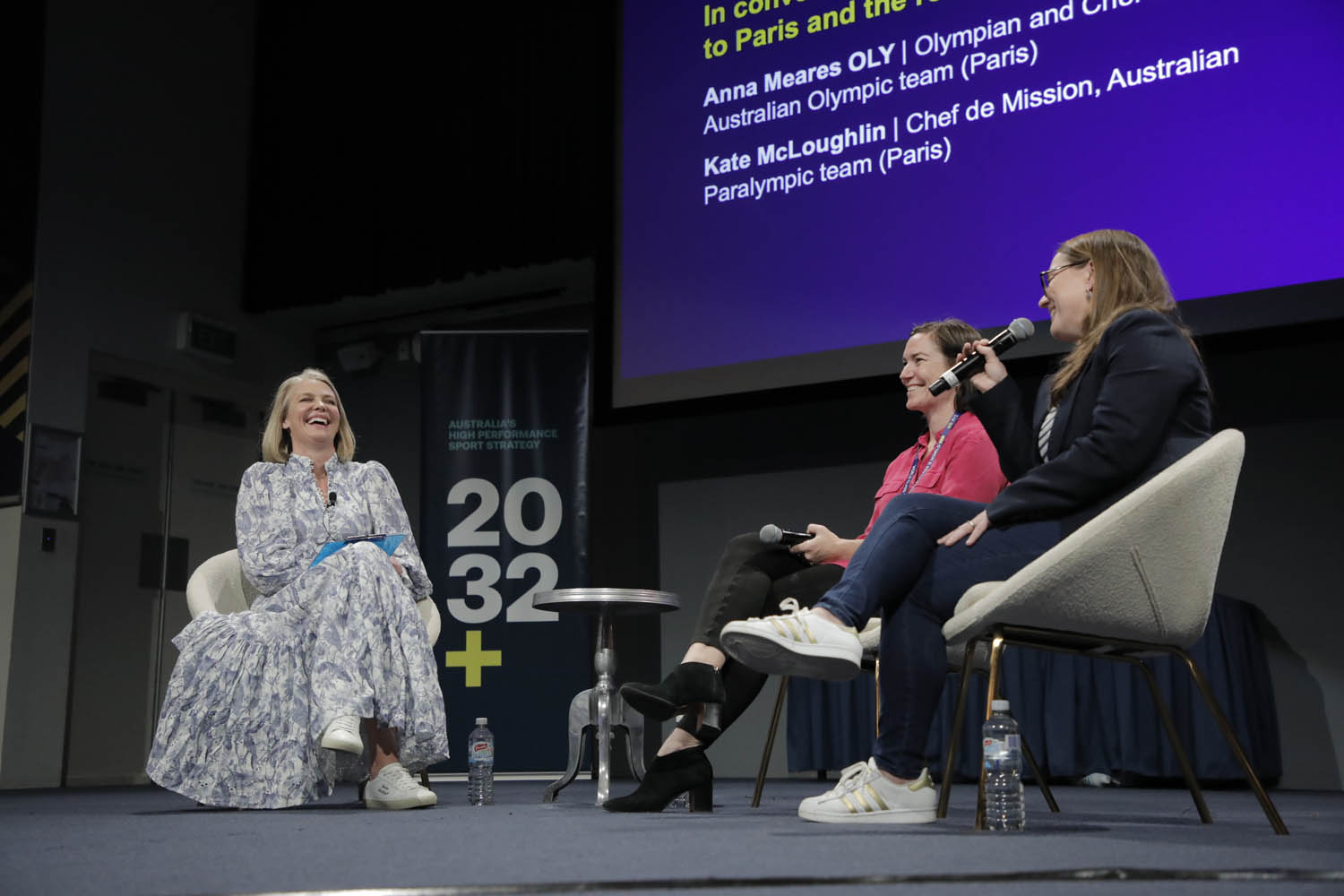 /*w-100*/ /*w-100*/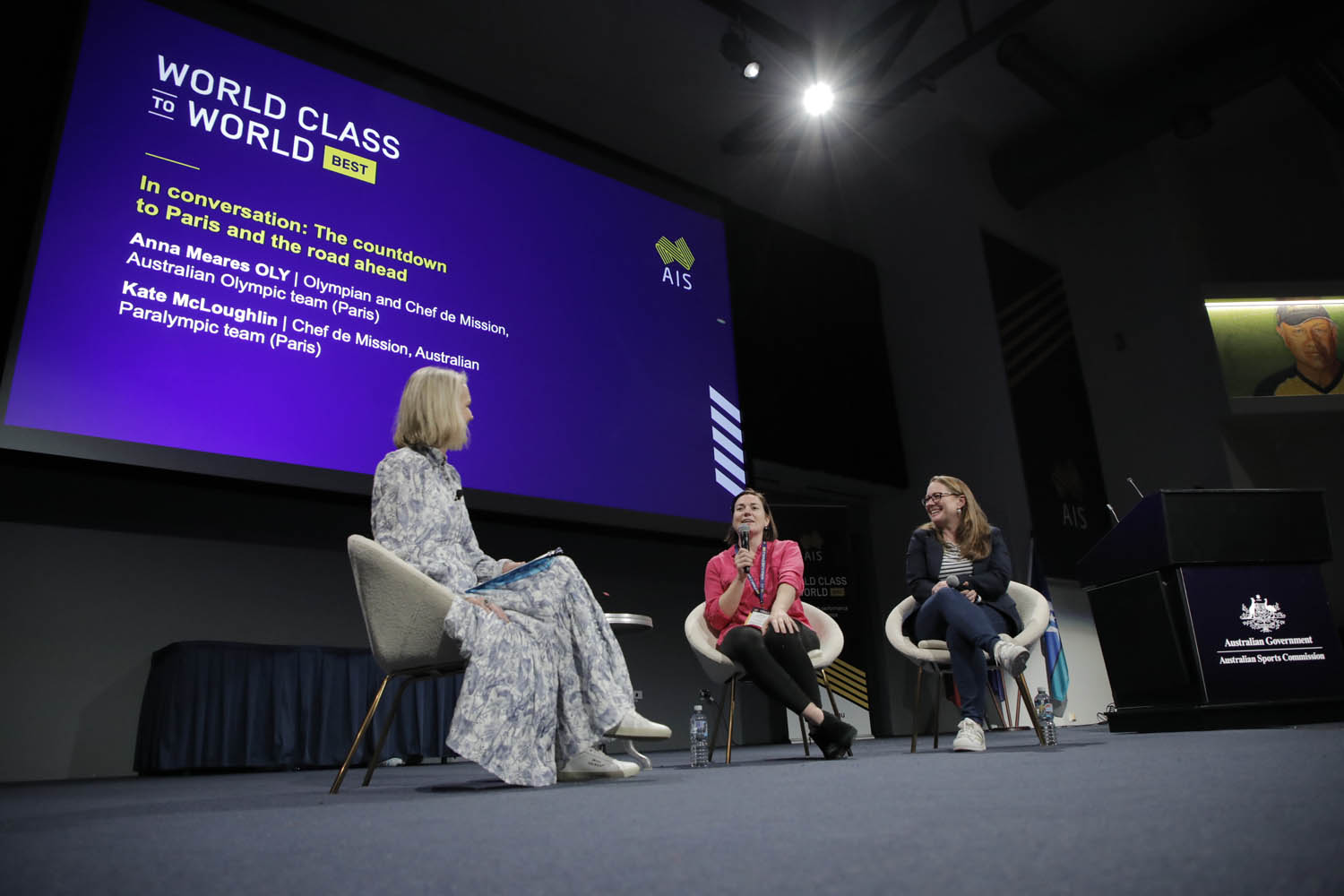 /*w-100*/ /*w-100*/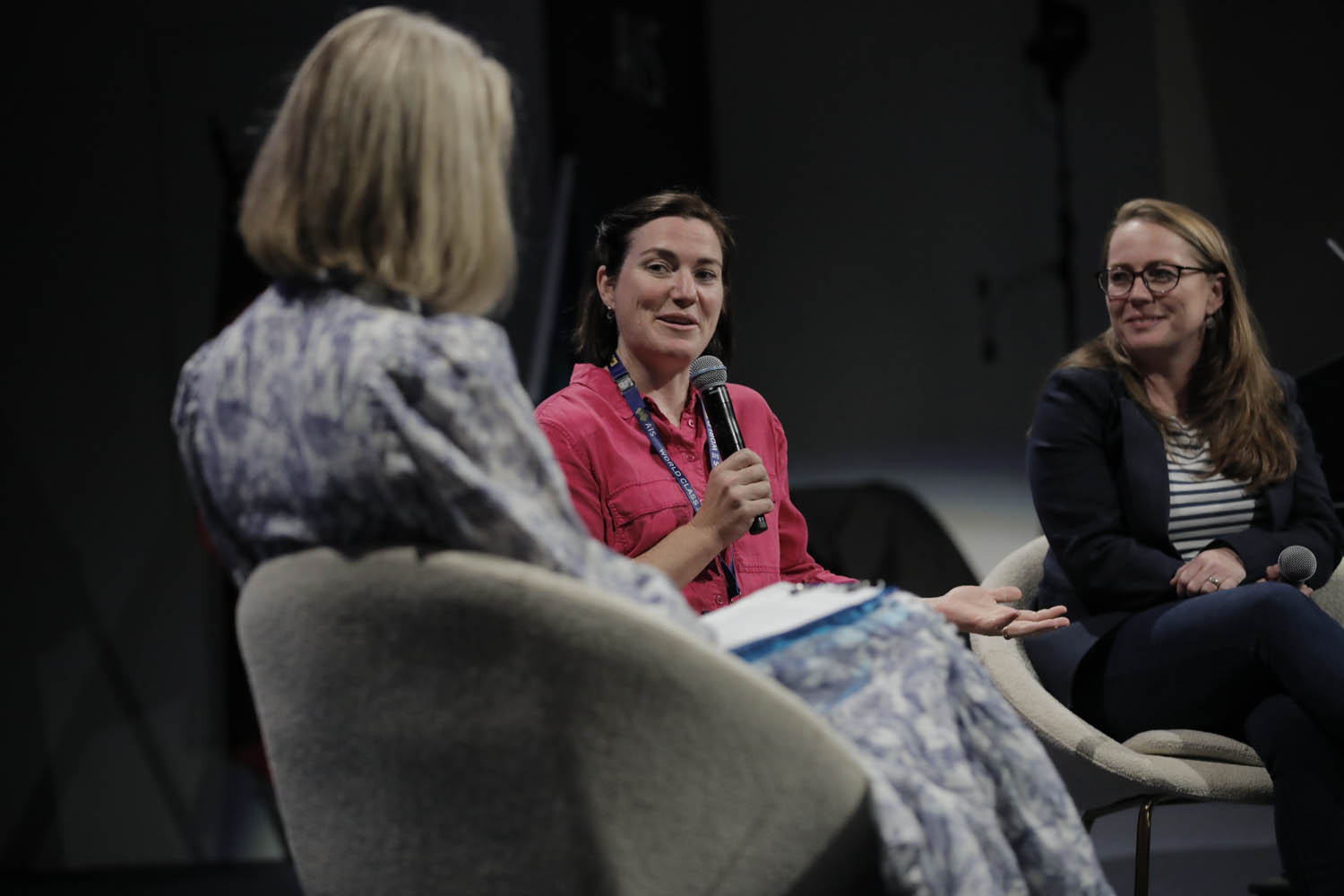 /*w-100*/ /*w-100*/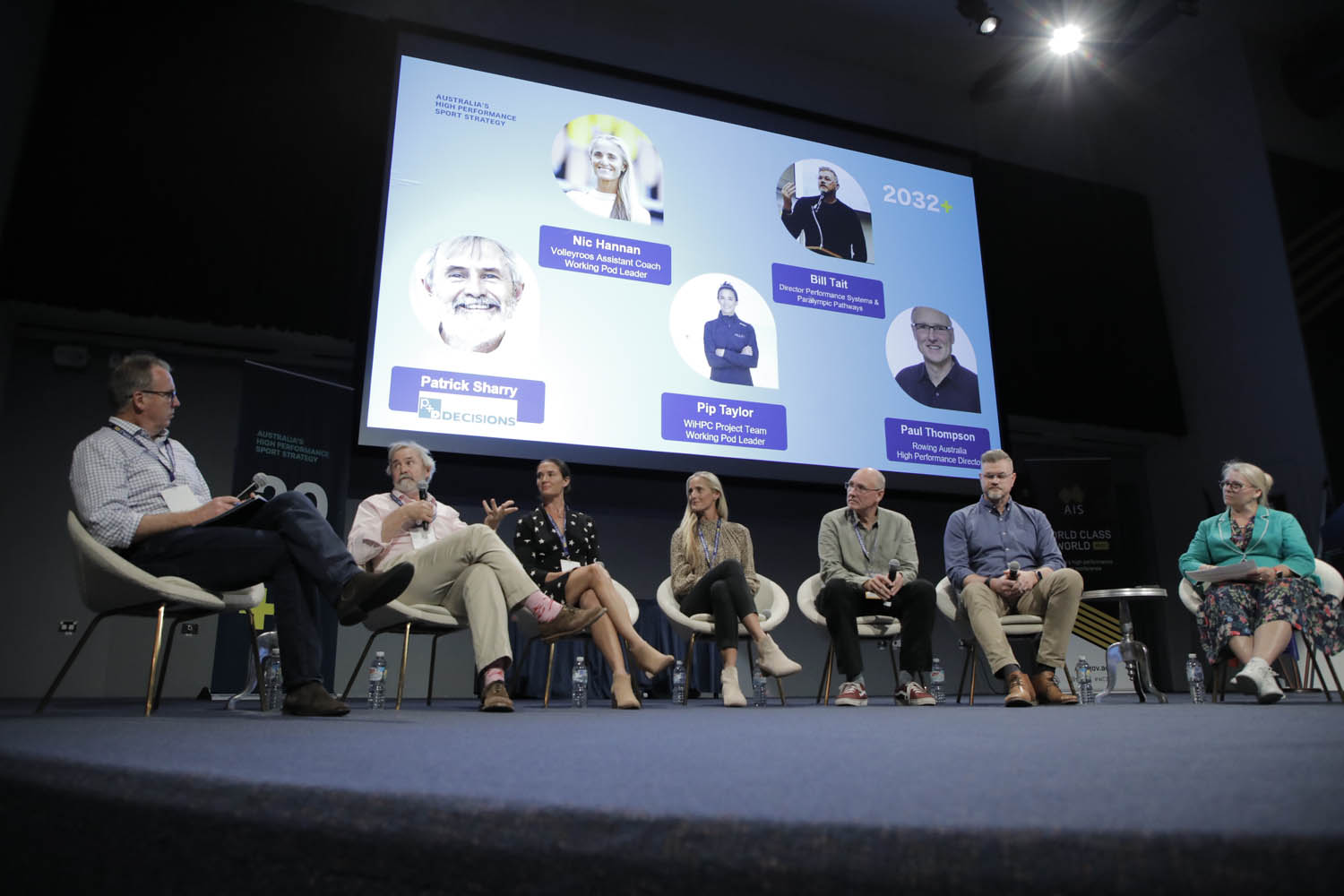 /*w-100*/ /*w-100*/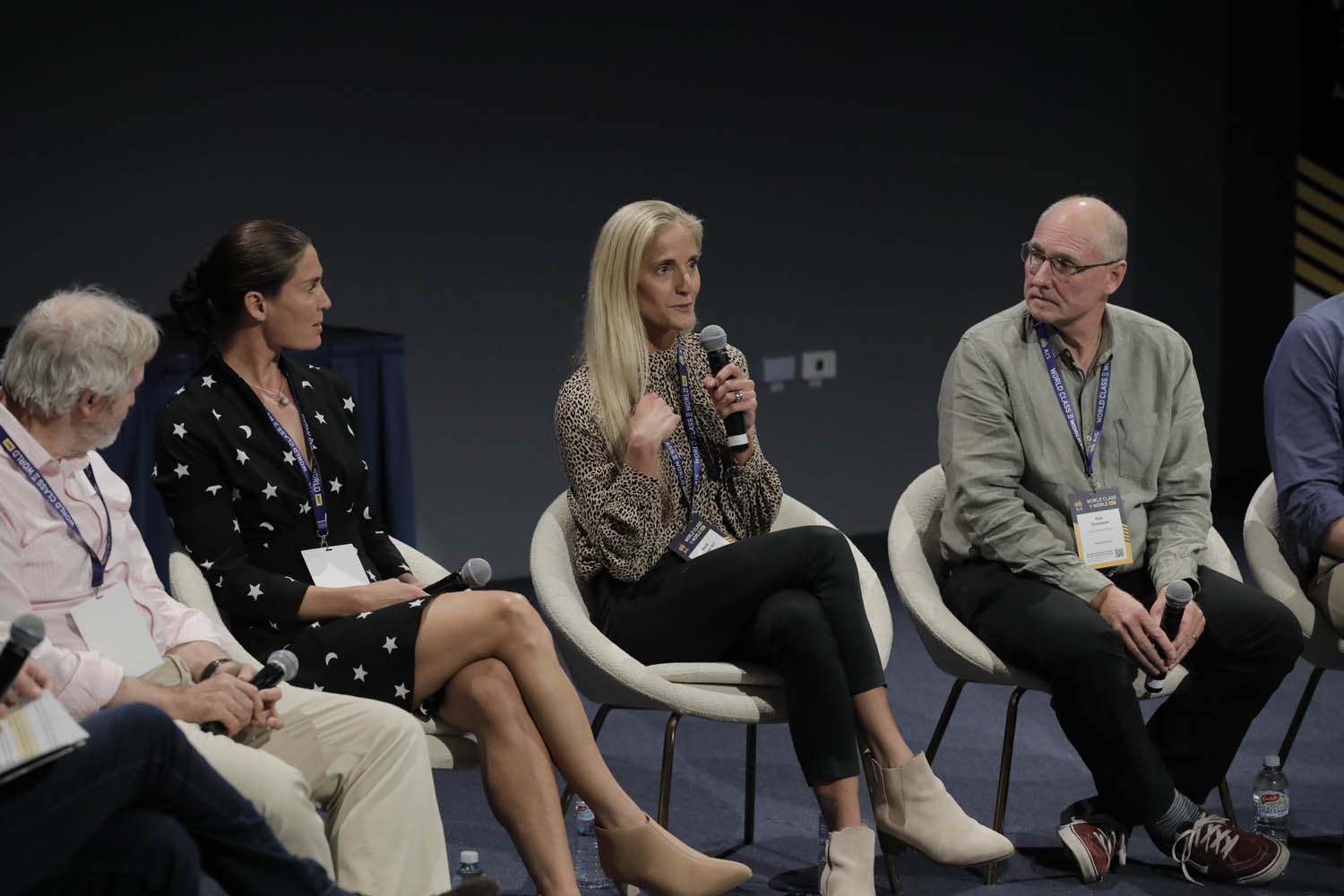 /*w-100*/ /*w-100*/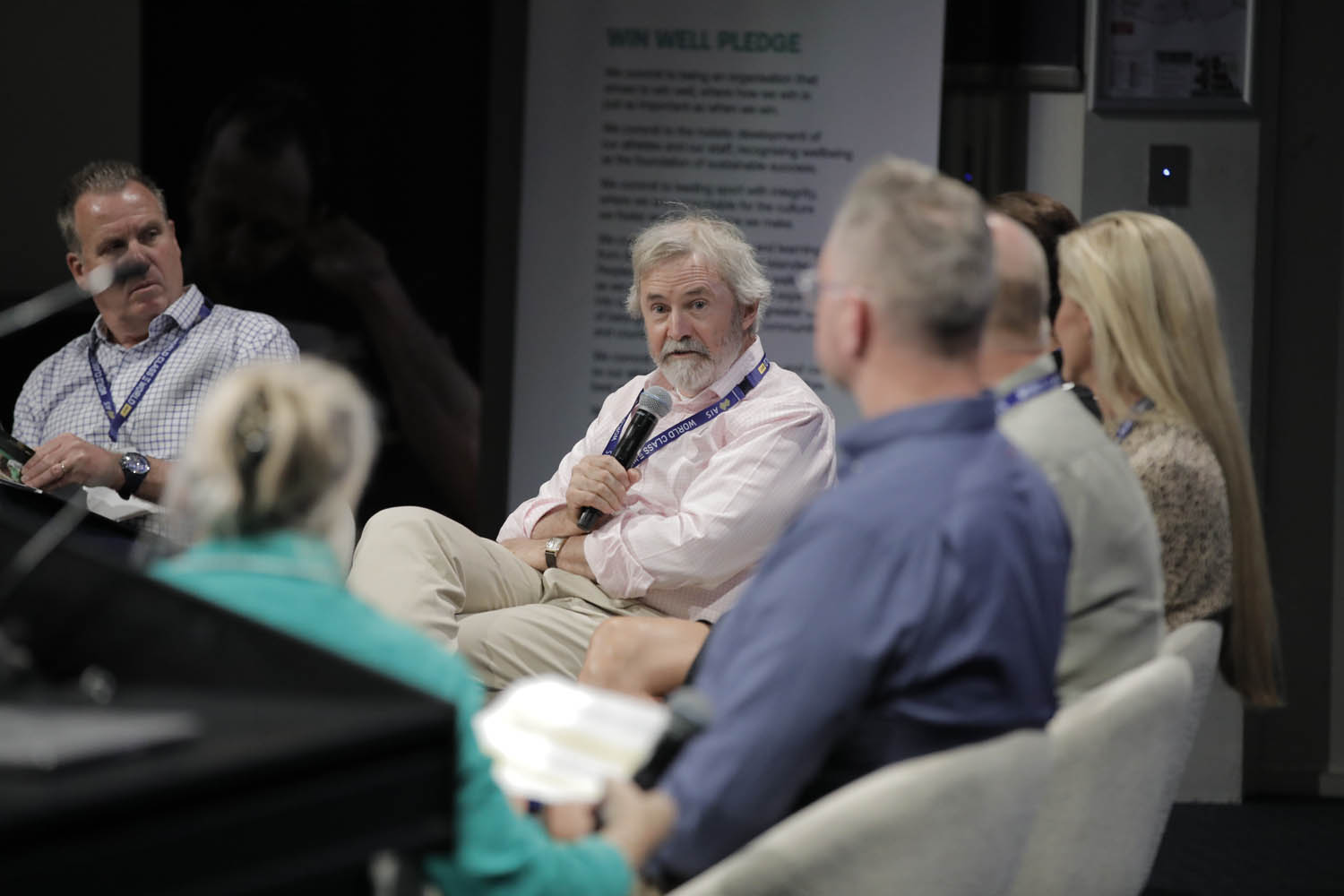 /*w-100*/ /*w-100*/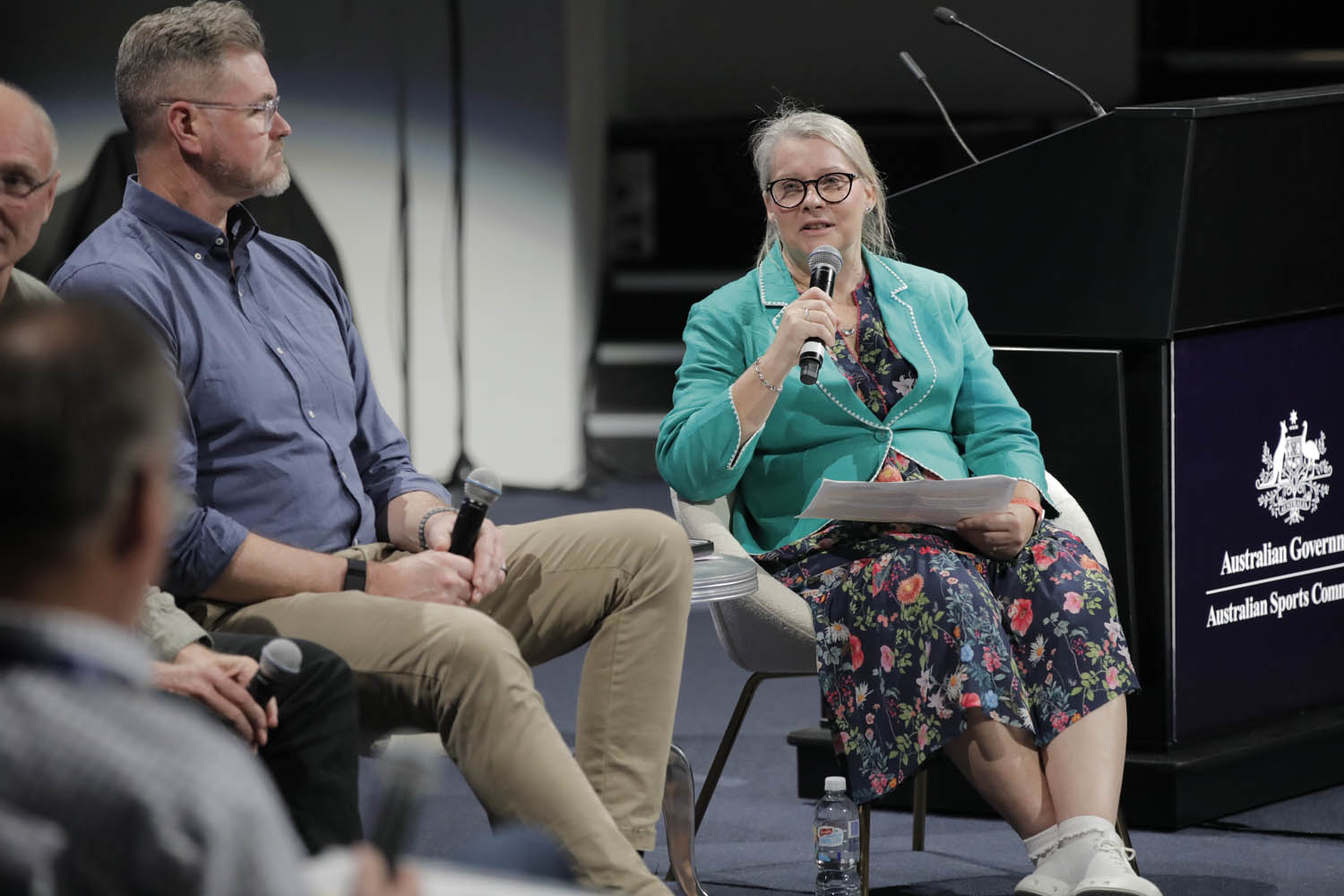 /*w-100*/ /*w-100*/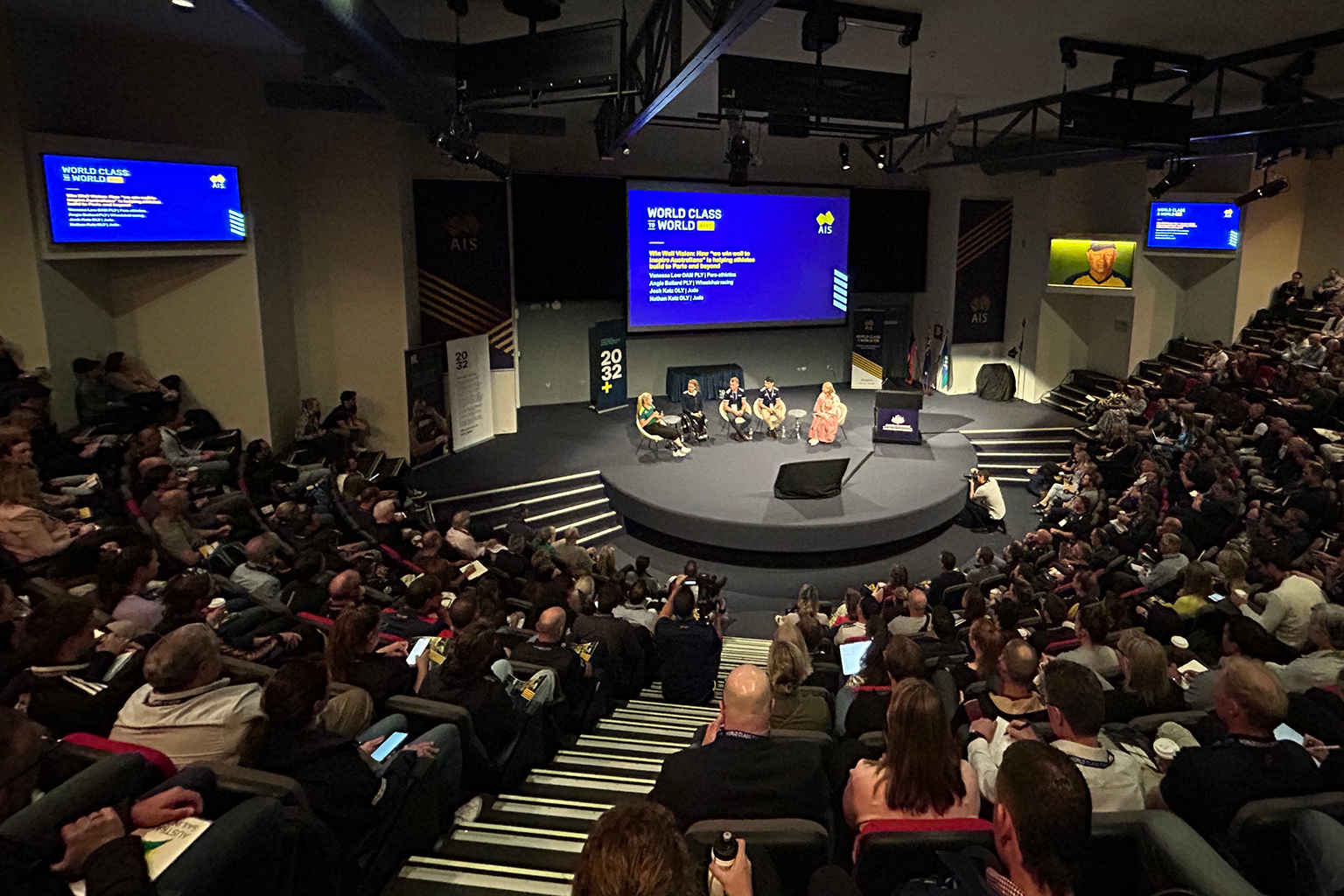 /*w-100*/ /*w-100*/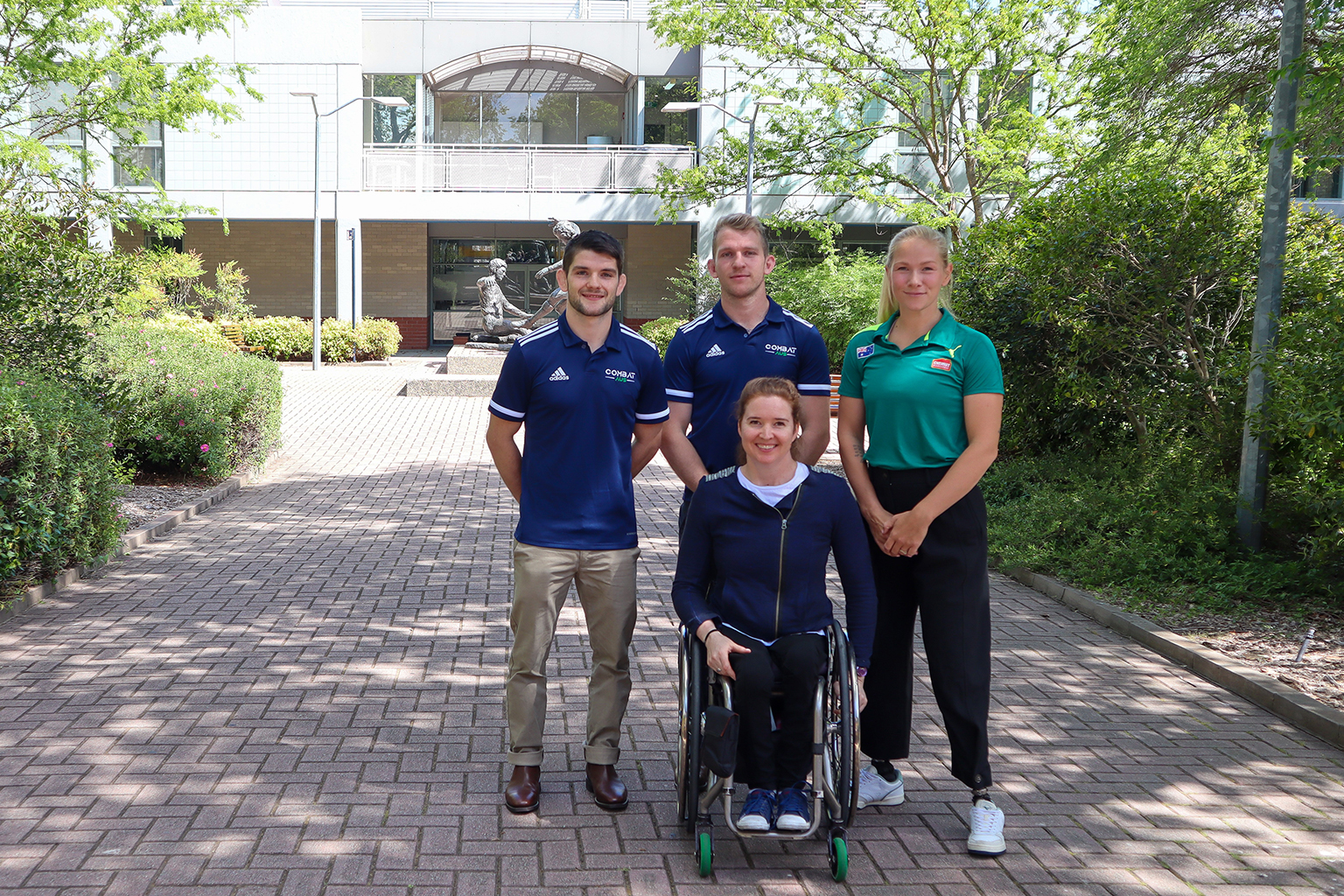 /*w-100*/ /*w-100*/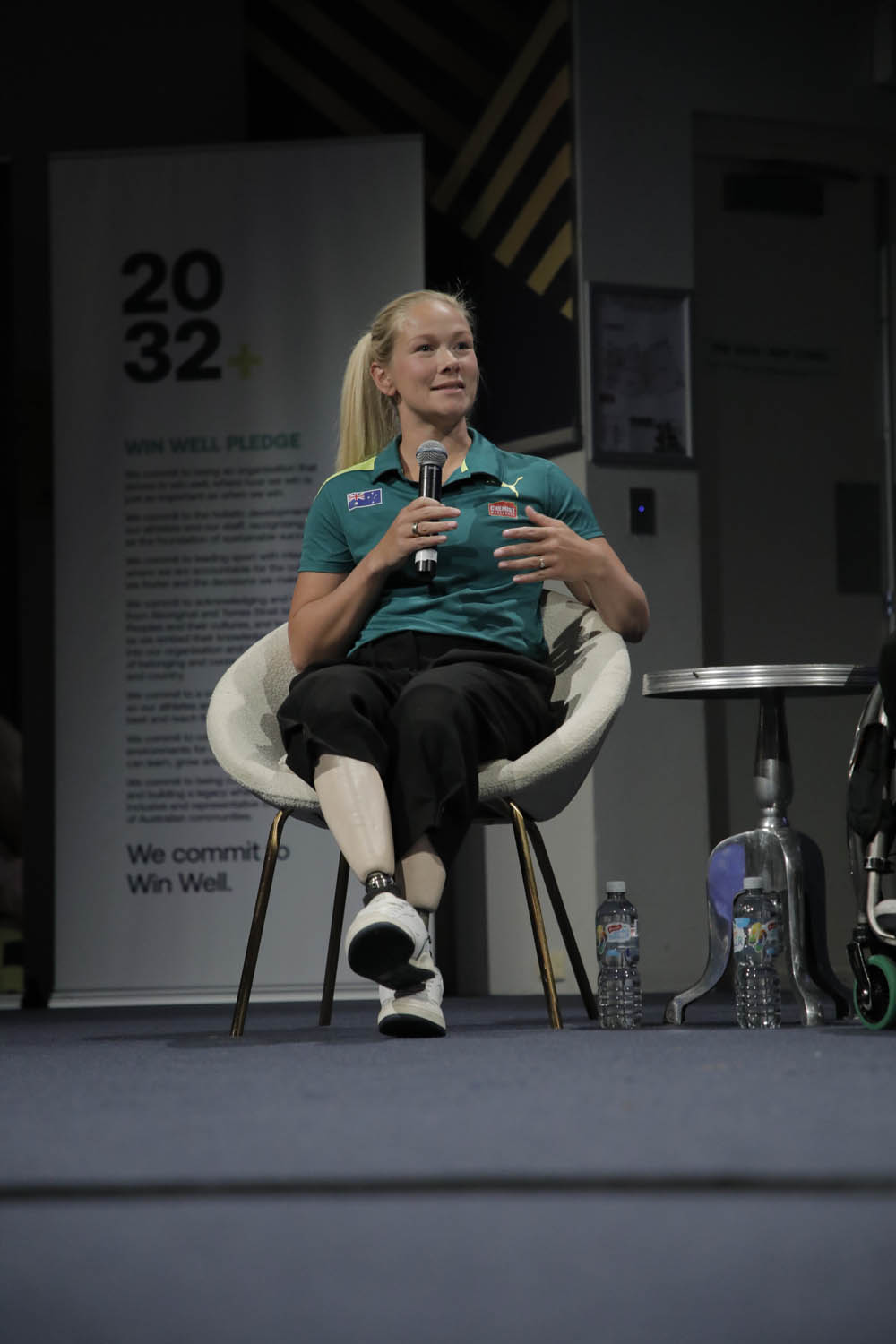 /**/ /**/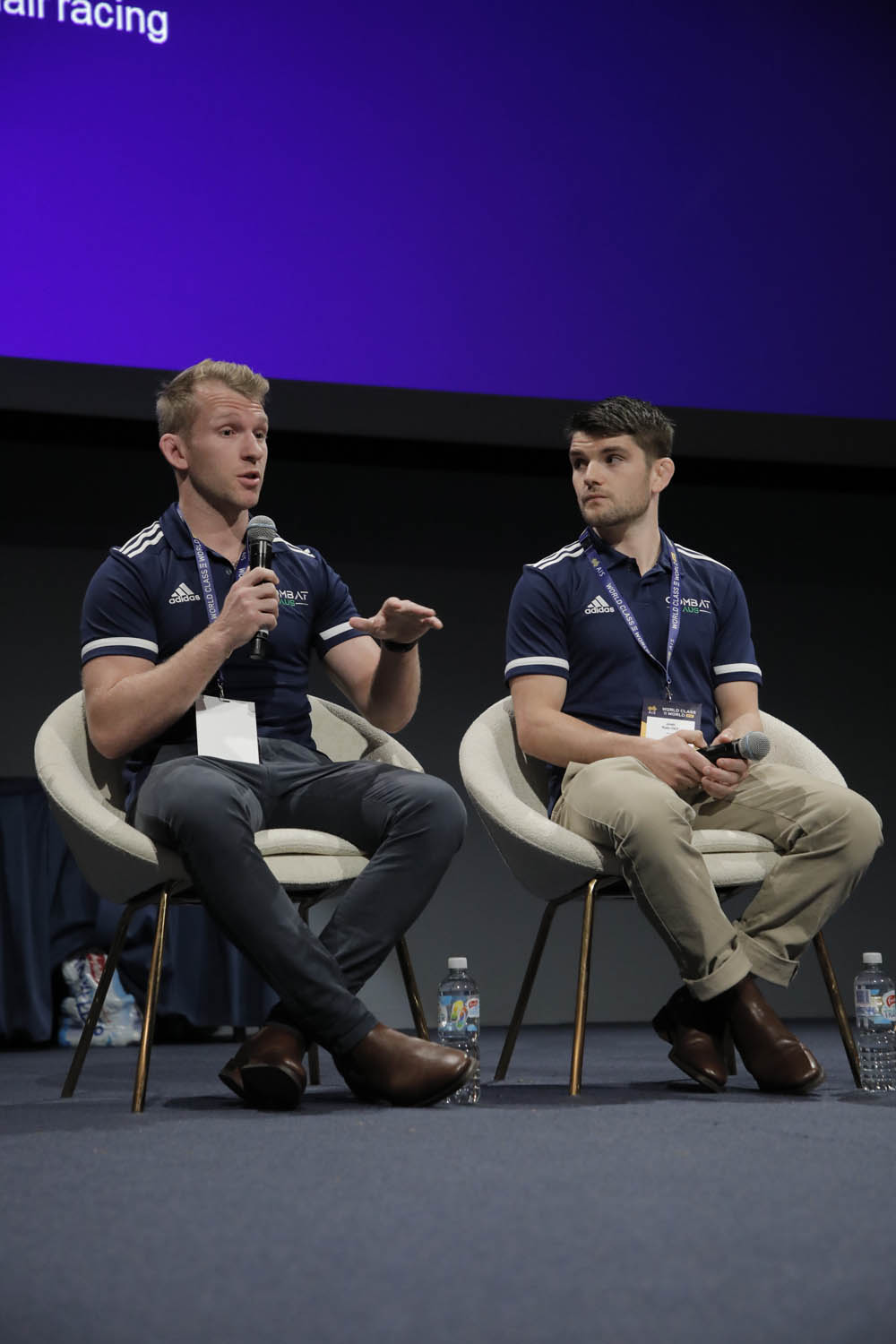 /**/ /**/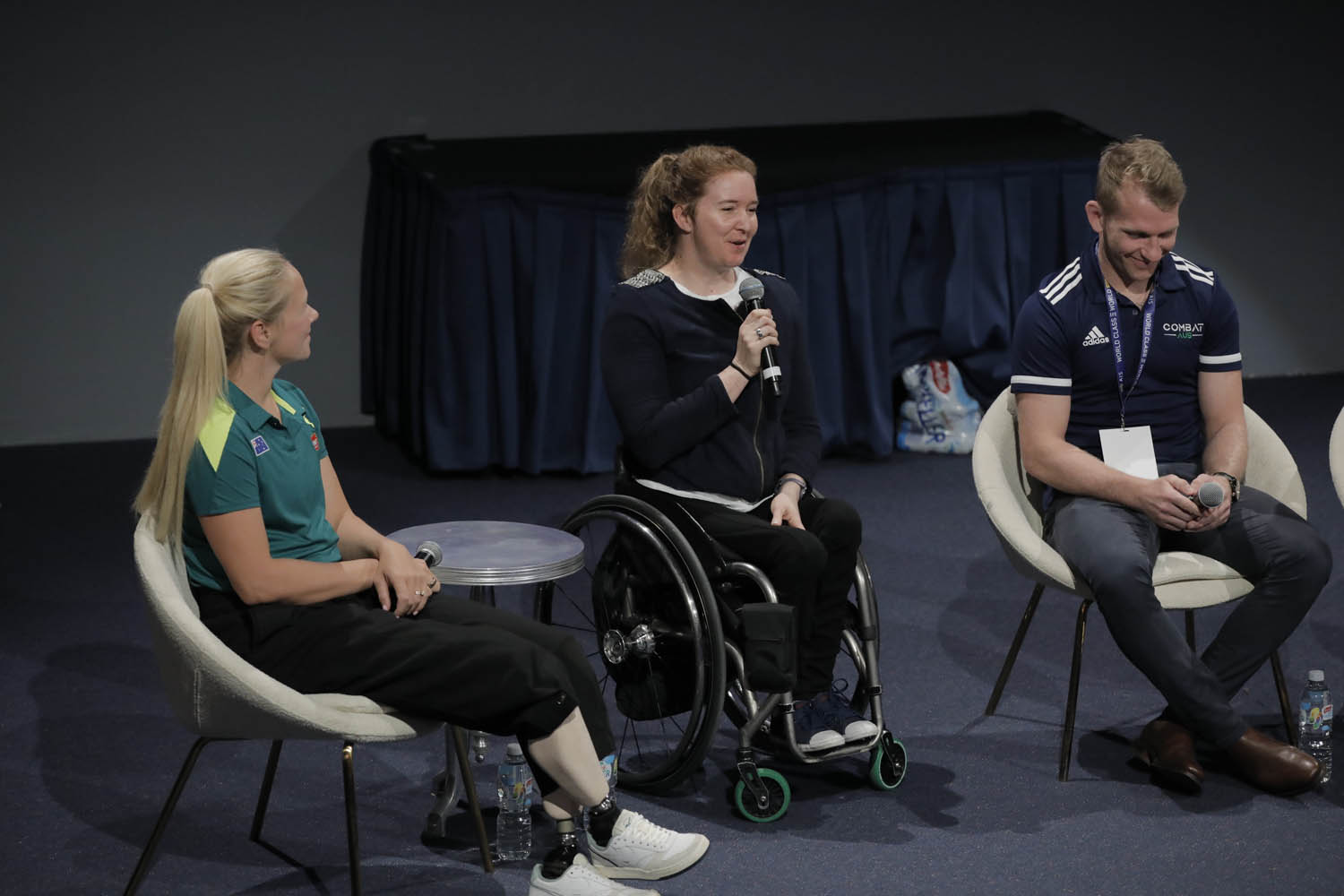 /*w-100*/ /*w-100*/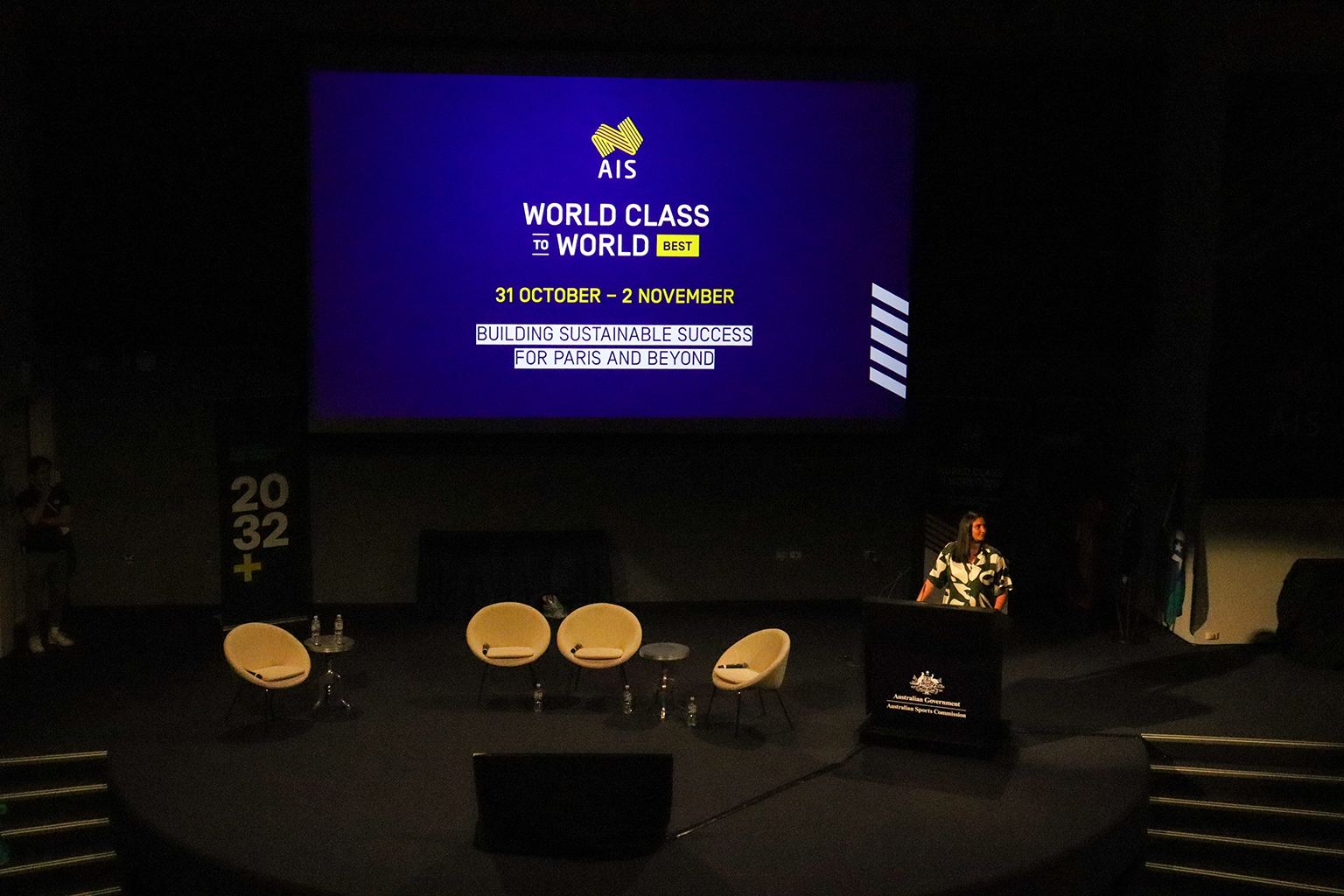 /*w-100*/ /*w-100*/
Previous
Next
HP2032+ Sport Strategy Values - Connection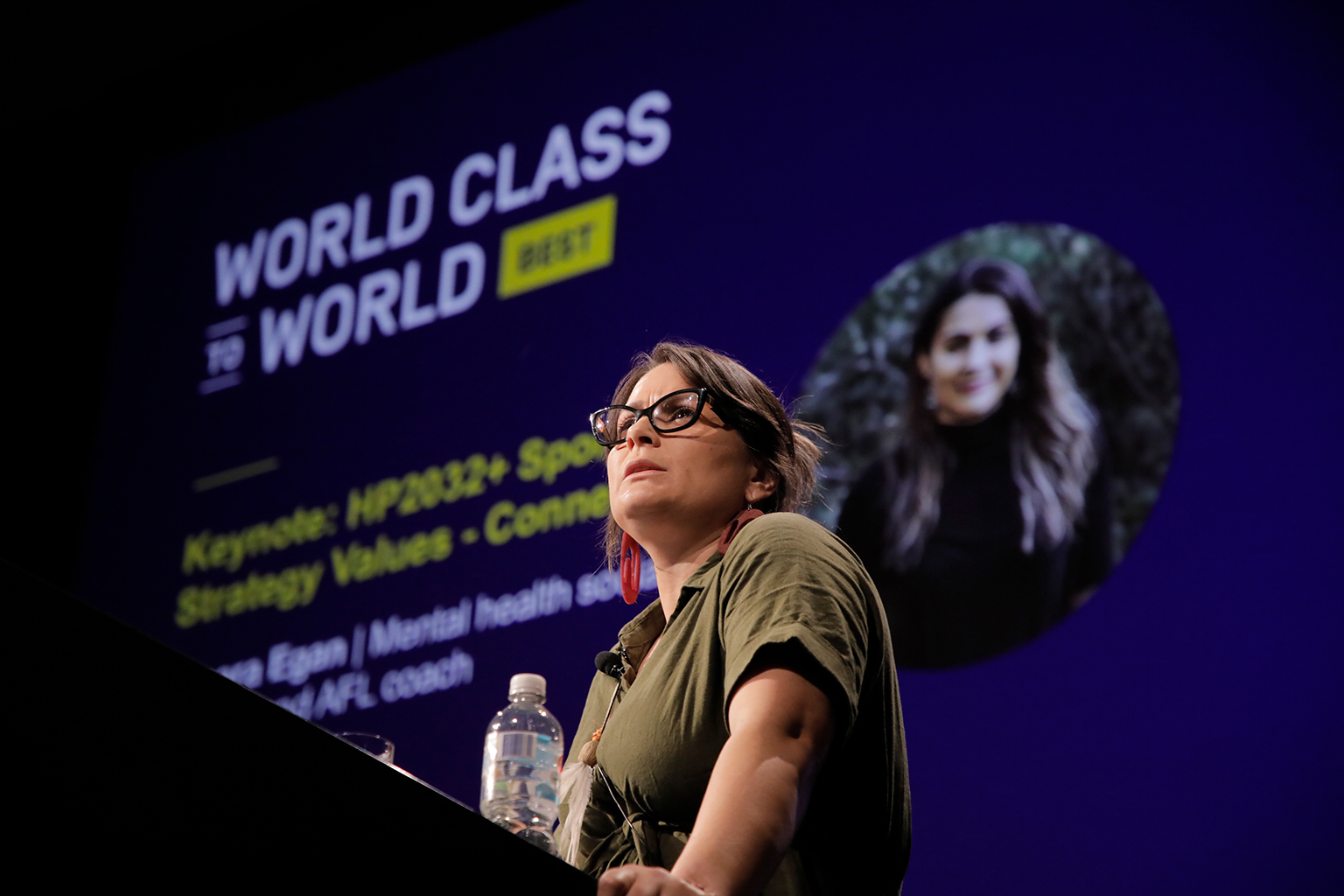 Introducing connection: We recognise that we are connected + contributing to something bigger than ourselves.
Mental health social worker and former AFLW coach Jacara Egan closed out day two of WC2WB with an inspiring keynote on connection.
The proud Muthi Muthi/Gunditjmara woman spoke about an indigenous mindfulness practice called Wayapa - a practice based on indigenous wisdom that focuses on connecting and caring for the earth as the starting point for creating wellbeing.
Egan explained how sports can apply the Wayapa principles within their environments and use the practice to build holistic athlete wellbeing and engagement programs through connection.
She challenged the group to find a way to embed connection throughout their programs for the benefit of all athletes, not just First Nations people.
The session finished with Egan leading a cultural sensory exercise where participants closed their eyes and visualised connecting with country to the sound of indigenous music.
Why are legacy and alumni connections important for athletes?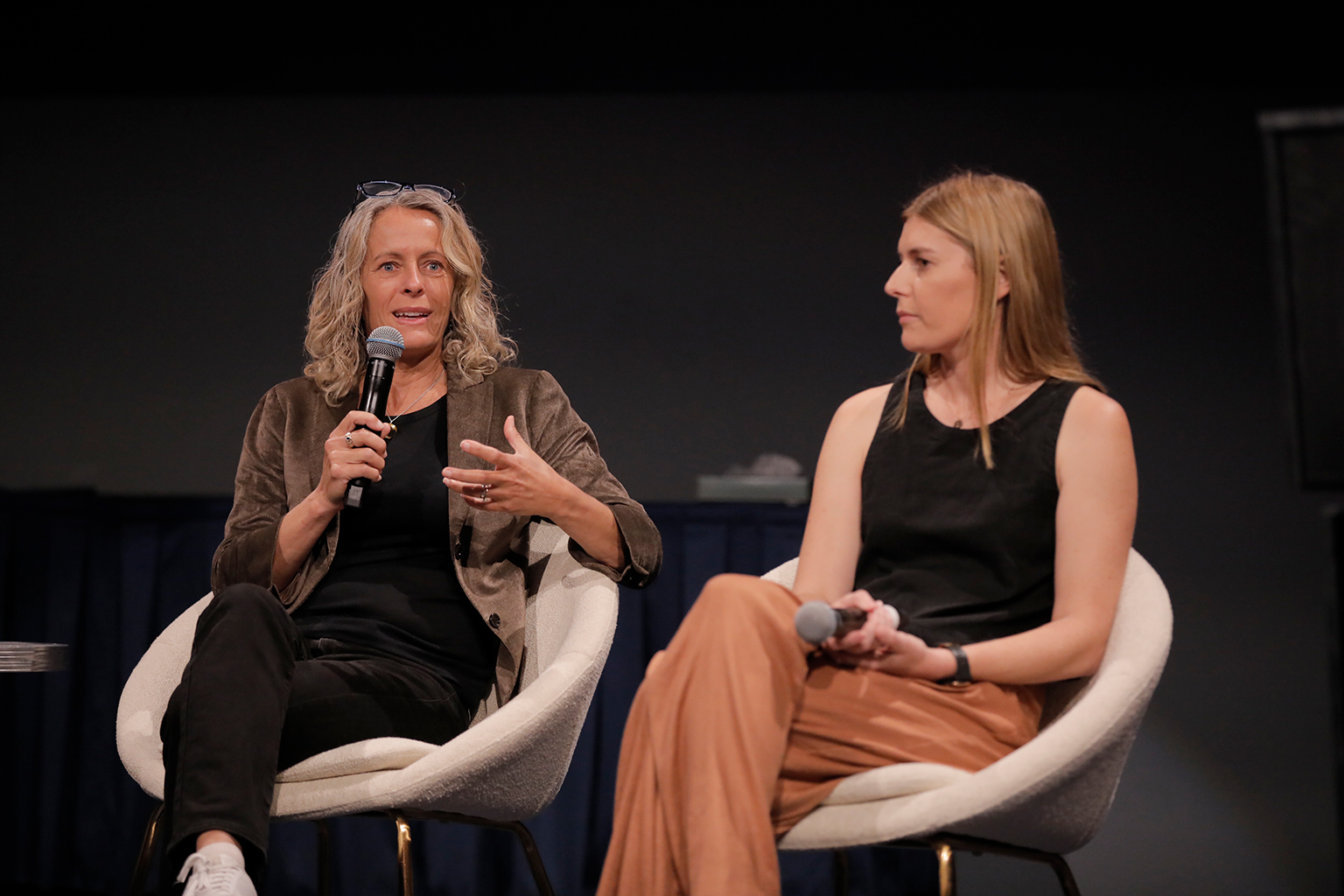 Archery, water polo and surfing may appear to have little in common on the surface, but all three sports are making concentrated efforts to make sure the involvement of athletes doesn't end with retirement.
The benefits of maintaining athlete legacy and alumni connections were discussed in a panel session with Surfing Australia High Performance Director Kate Wilcomes, Archery Australia High Performance Wellbeing Manager Rhian Bird, and water polo athletes Genevieve Longman and Kessja Gofers.
Bird kicked off the session with a presentation on Archery Australia's Alumni Program. The Social Learning Theory is central to the program with a focus on story telling and sharing experiences helping build connection between older athletes and their younger peers, and assisting former athletes reengage with the sport.
Wilcomes pointed to the Queen In Me program created by pro surfer India Robinson as an example of Surfing Australia's commitment to tailoring its athletes' entrepreneurial skills to facilitate delivery of community programs. The program involves participants attending surf camps with experienced athletes, including India, and working through a range of activities aimed at inspiring, educating and empowering young women.
Water Polo Australia's Alumni Program is another new initiative. It first got underway in 2020 through the creation of a contact database of former athletes. The program's progression has been highlighted by the Caps Initiative which has seen 262 males and 203 females who previously represented Australia in any form of competition presented with a commemorative cap. The caps are numbered in order of the athletes' debut and are presented at water polo competitions in an effort to build connection between current and past players.
In conversation with Australia's Chief of Army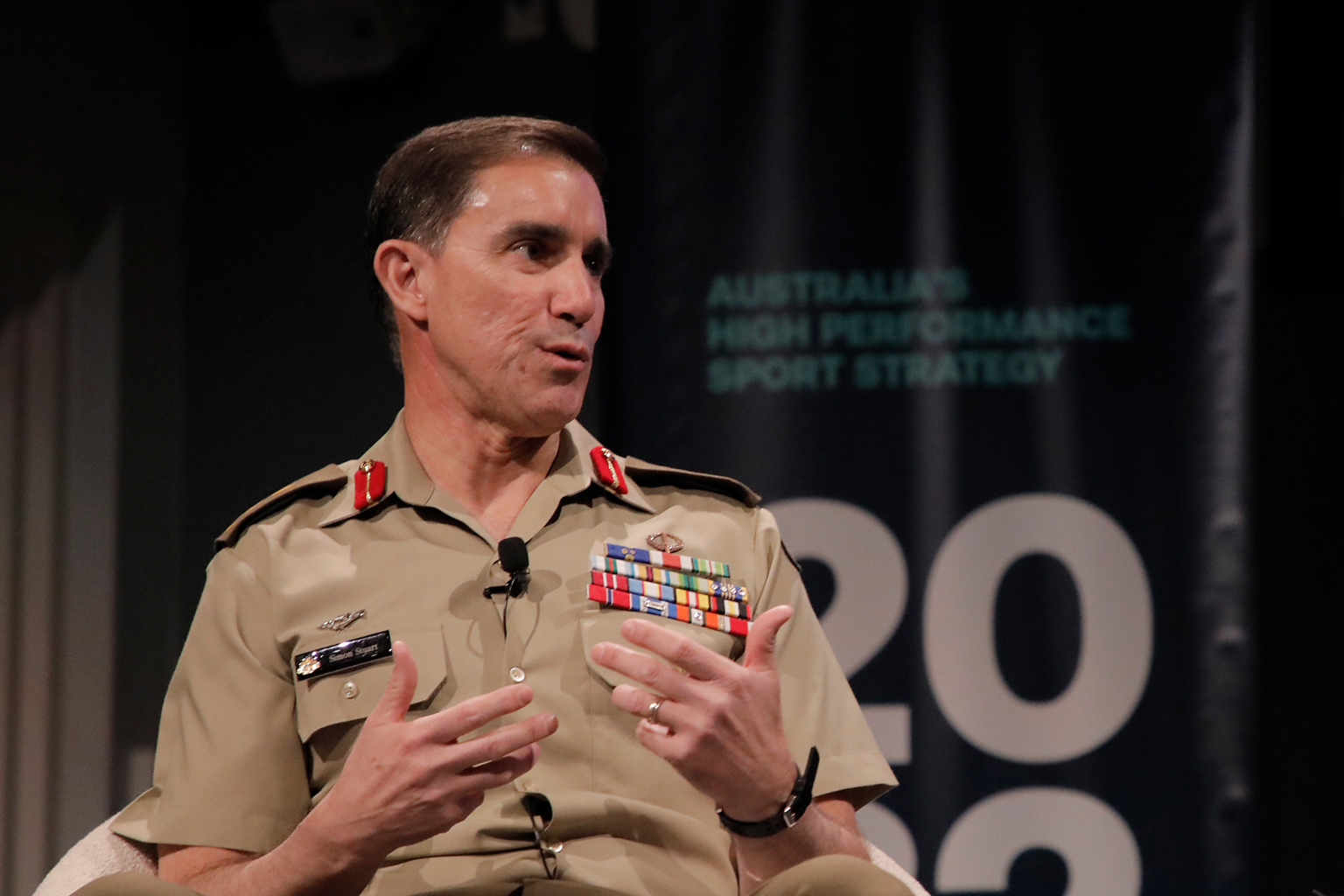 The value of teamwork and leadership were among the topics put into the spotlight during a wide-ranging conversation between Australia's Chief of Army Lieutenant General Simon Stuart, AO, DSC and ASC CEO Kieren Perkins.
Speaking to the core values of the HP2032+ Sport Strategy Values of Excellence, Courage, Belonging and Connection, Lieutenant General Stuart provided insight as to how management strategies used by the Australian Army can translate to the ASC and the world of high-performance sport more broadly.
Earlier this year, a Memorandum of Understanding (MoU) between the ASC and Australian Army was renewed to focus on key shared areas such as human performance optimisation, coaching, briefing and debriefings, organisational learnings and increasing Indigenous representation.
As the leader of one arm of the Australian Defence Force, Lieutenant General Stuart highlighted that creating and fostering a shared sense of purpose was integral to effective teamwork.
"That can be difficult in a large organisation, and across others, that have different climate cultures and environments," he said.
"You have to value and respect everyone's contribution. We do a lot of work to unify our people around the shared ADF values, and we highlight and respect the differences that we have so we can then come together and work together and understand how we all contribute to our purpose."
Lieutenant General Stuart said risk management strategies, the ability to manage the relationship between wellbeing and performance and obtaining and using strong data in the decision making process were all part of effective leadership.
"Leadership is the same in any organisation or sport. It's about human interaction, people, purpose and achieving the mission, whatever that may be," he said.
"Leaders create the operational environment and are responsible for translating organisational aspirations into a lived experience at the individual level."
How cross-sport learning can provide a competitive edge
Cricket Australia Executive General Manager of High Performance & National Teams Ben Oliver and Head of National Development Sonya Thompson spoke to their breakout group about the importance of holistic coach development.
Oliver shared the approach Cricket Australia takes for coach development to enable them to withstand the high-level of scrutiny and pressure that comes with being the coach of a high-profile team.
"We monitor coach performance in a way that is more than just winning and losing - we look at their team culture, impact and their individual leadership and performance."
Thompson sparked conversation amongst participants about the characteristics that make up a 'good coach', before she revealed the top competencies Cricket Australia identified for coaches, including creating cultures of trusting and inclusive environments, emotional intelligence and the ability to inspire others.
The pair provided insight into the shift in Cricket Australia's coach development programs, with a newfound emphasis on individual development and opportunities for coaches to gain lived experience across programs of different levels, ages and genders.
The countdown to Paris and the road ahead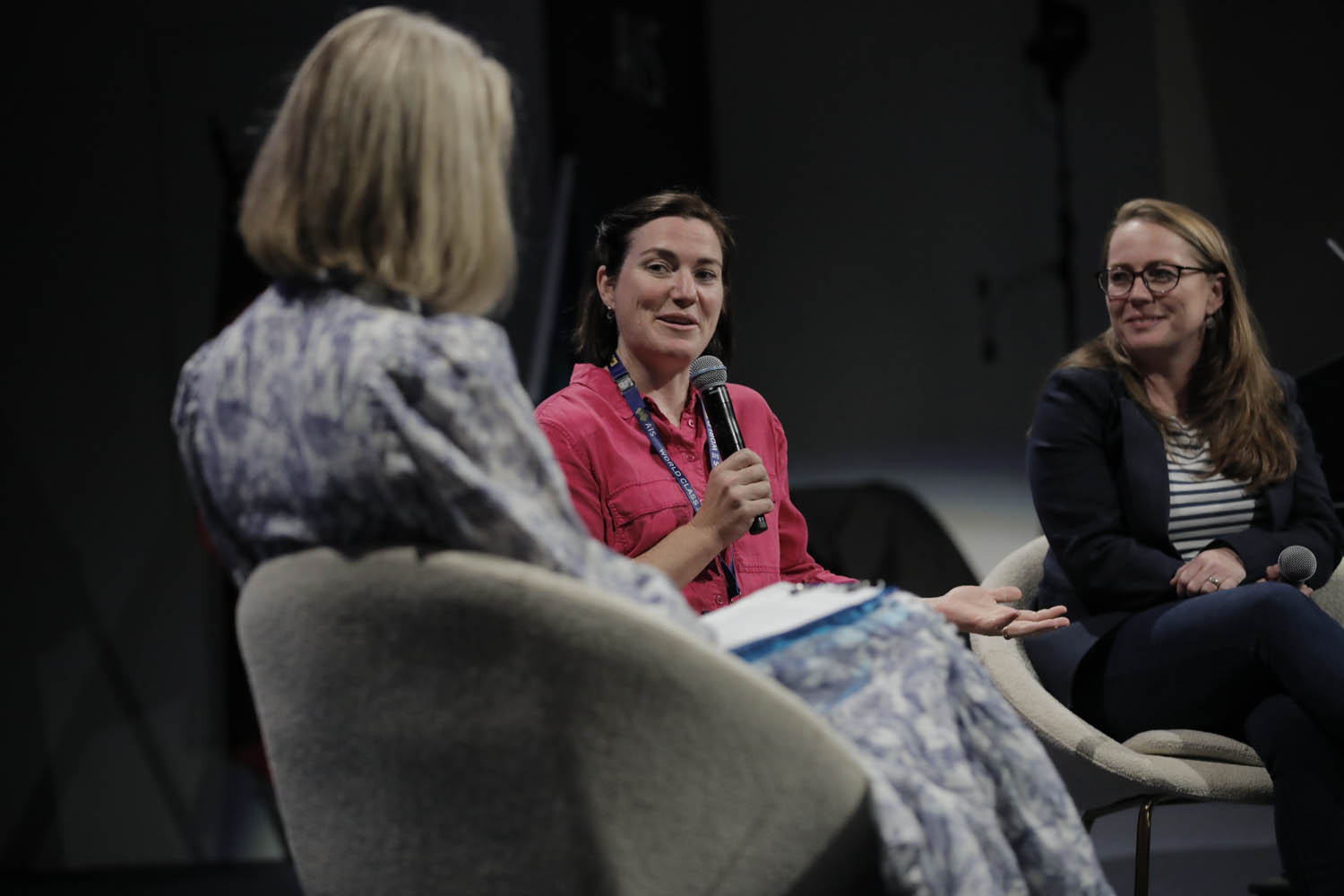 The focus on Paris continued with an 'In Conversation' session between AIS Director Matti Clements and the Chef de Missions of the 2024 Olympic and Paralympic games, Anna Meares OLY and Kate McLoughlin.
McLoughlin defined her role as Paralympic Chef de Missions as "being responsible for providing a safe and supportive environment, and building relationships with coaches, athletes and support staff so they can perform on the main stage."
Meares was open and raw as she spoke about the challenges she faced in navigating her professional and personal life following her highly successful sporting career.
The pair also shared insights (and heartwarming anecdotes) into the challenges they face as working mums and how they endeavor to be good role models for their children, despite the gender stereotypes facing women.
McLoughlin shined a light on the obstacles that lay ahead for the Australian Paralympic team as they navigate the Paris games, including accessibility in the city itself and heat regulation.
The passion and heart of both women was not lost on anyone in the room, with it safe to say our Olympic and Paralympic teams will be in safe hands for Paris 2024.
'One of my key roles is changing the perception and message of what success is.'

Australian Olympic Team Chef de Mission Anna Meares
Insights and Actions for Women in HP Coaching — 'Building belonging to thrive'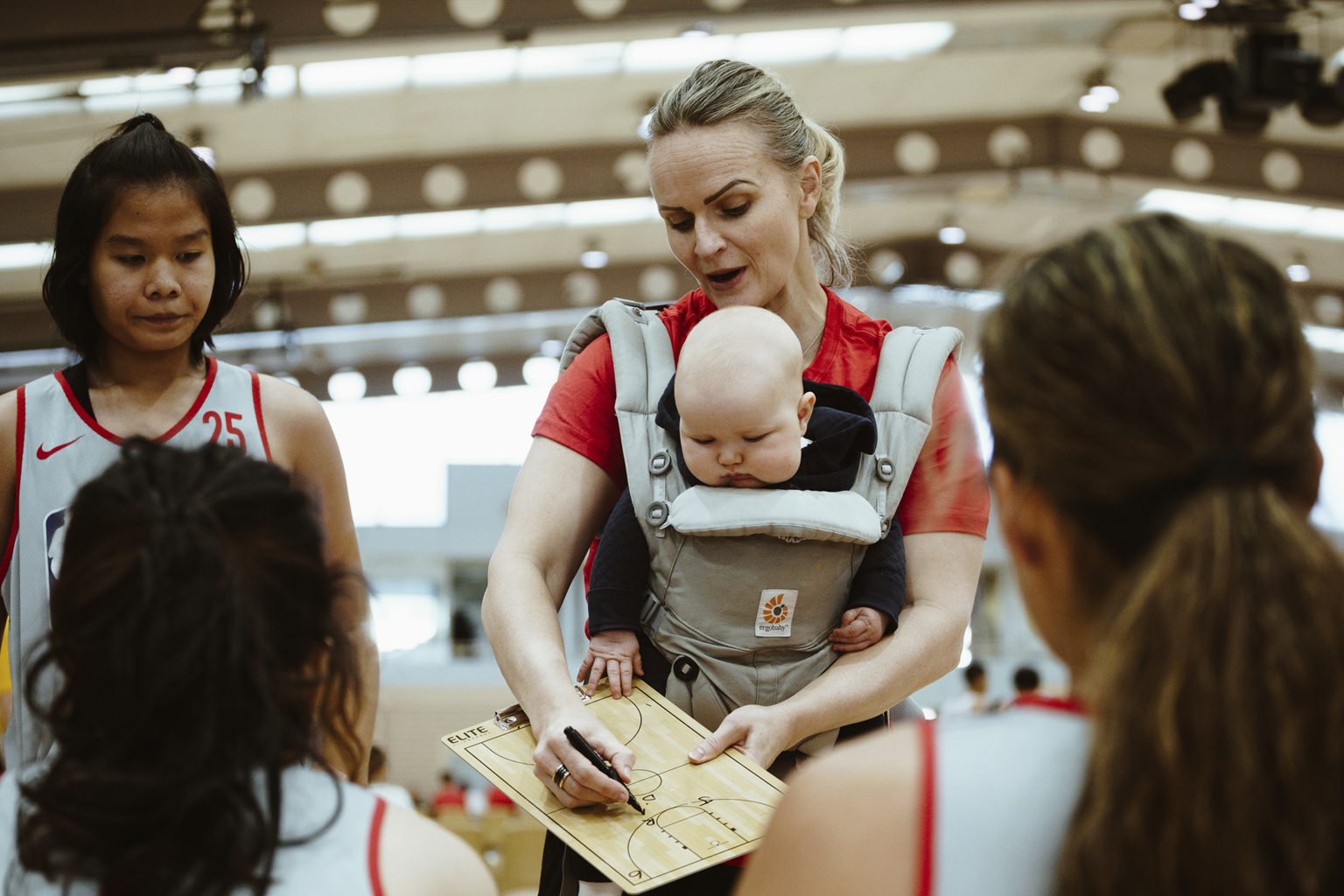 An ambitious Action Plan has been launched on day two of World Class to World Best to address the underrepresentation of women in coaching roles across the Australian high performance system.
The Women in High Performance Coaching Action Plan aims to advance gender equity in coaching and drive cultural and systemic change.
The panel discussed that less than 10% of the top 36 funded high performance sports are led by women.
Discussion centred around the panel members' personal and career experiences and how they reflected the insights captured to inform the report over the past 24 months. The insights have shown female coaches exit the high performance sport system at different career stages, resulting in a leaky talent pipeline.
The Action Plan lists 10 recommendations for driving systemic and sustainable change, including measures that will be led by the AIS as well as avenues for sports, organisations and individuals to play their role.
Win Well panel – Josh Katz, Nathan Katz, Angie Ballard, Vanessa Low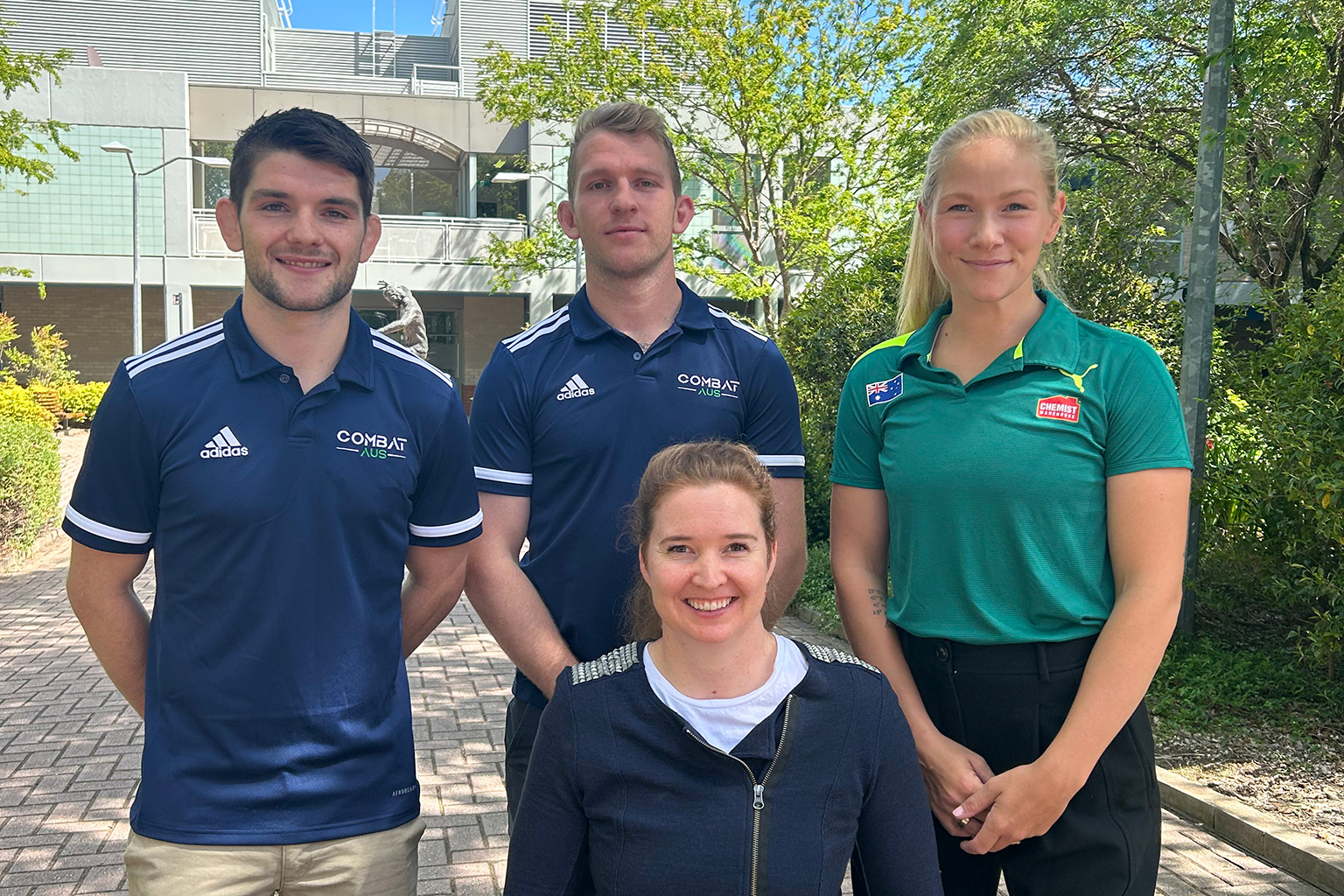 The second day of WC2WB opened with a Win Well panel featuring six-time Paralympian Angie Ballard, Paralympic gold medallist Vanessa Low and the history making judoka brothers Josh and Nathan Katz.
The panel discussed how Australia's 2032+ High Performance Strategy vision "we win well to inspire Australians" is helping athletes build to Paris and beyond.
Low touched on her experience juggling being a new mum and an elite athlete, and the value of a holistic approach to wellbeing.
Ballard spoke candidly about being a part of the Win Well vision and the importance of valuing athletes outside of their achievements.
The Katz brothers discussed their difficult experience when Nathan qualified for the Tokyo Olympics and Josh missed out, and highlighted the importance of organisations supporting their athletes even when they aren't 'winning'.
Return to top