An AFLW captain, a New Zealand Olympian and an assistant coach of the women's Volleyroos are among the successful recipients of a Women Leaders in Sport (WLIS) grant.
More than 50 women who work or volunteer in sport will share in more than $227,000 in funding next year to attend courses or training programs to help them further develop their leadership skills.
The successful recipients include AFLW midfielder Hayley Miller who said she was honoured and excited to receive a WLIS grant.
Miller, who captained the Fremantle Dockers this year, will study a Certificate IV in Leadership and Management from the Australian Institute of Management.
"Being a relatively young leader, I know I still have so much to learn about leadership and how best to navigate sometimes difficult or uncomfortable situations that arise in team sports. This grant will allow me to develop my skills by undertaking further education and training in the leadership and management space while at the same time preparing me for my post-football career."
Former Australian indoor and beach volleyballer Nicole Hannan (pictured below) will use her grant for training and mentoring.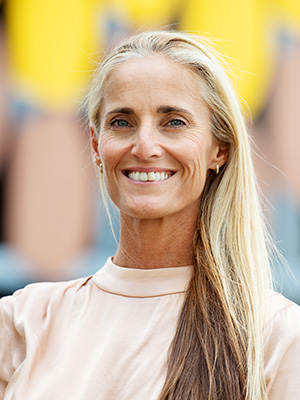 Now assistant coach of the women's Volleyroos, Hannan said the training will help her understand her own emotional intelligence and that of others.
"This is an essential element in growing my leadership skills as a coach, working effectively with my athletes, and discovering ways to produce the best performances under pressure," she said.
"Ultimately, it will assist in providing me better opportunities, representation, and performance outcomes as a high-performance female coach."
Seven organisations including Rowing Australia, Snow Australia and the Queensland Touch Association will also share in $138,500 in funding to help them to be more diverse, inclusive and address barriers for women leaders in sport.
"Rowing Australia is delighted to be awarded a WLIS Organisation Grant which will allow us to build on our initial Women in High Performance Coaching Project. This project has been focused on creating systemic change which will identify and then start to remove the barriers for women in progressing along the high-performance coaching pathway," Rowing Australia Chief Operating Officer Sarah Cook said.
"This grant will enable us to commence Phase 2 of this project, which aims to create environmental and cultural change within our performance pathway clubs. We are grateful to the Australian Sports Commission and the Australian Government for their ongoing support and funding of the WLIS Grants," she added.
WLIS is an Australian Government initiative managed by the Australian Sports Commission (ASC) in partnership with the Office for Women with more than 26,000 women and over 800 organisations benefiting from the program since it started 20 years ago.
Minister for Sport The Hon. Anika Wells said the program continues to make real change in the industry.
"We want more women to see themselves as leaders in sport and this program provides an opportunity for leaders to build on their skills and knowledge so they can take the next step forward in their career.
"Organisations will also be supported in their journey to be more inclusive and achieve gender equality."
ASC CEO Kieren Perkins OAM congratulated the latest grant recipients who will begin their studies in the new year.
"It's fantastic to see the breadth of talent, sports and roles represented among the 2023 grant recipients," Mr Perkins said.
"This program is about strengthening diversity at a senior level which is going to be crucial through the Green and Gold decade and beyond.
"I'm grateful for the Australian Government's continued support of this important program which is having a tangible impact on communities across the country."
A list of 2023 WLIS individual and organisation grant recipients is available on the Women Leaders in Sport website.
Return to top