Sport Australia has developed these templates for diversity champions within clubs, so they can easily tailor and adapt resources to best meet the needs of their administrators, volunteers, boards, coaches, members and their families.
Tips:
Add your logo and an image that best reflects your current or potential members to the poster template to show that everybody is welcome at your club.
Use some or all of the presentation slides to help educate staff at your sporting organisation.
Add your logo to the Common terms fact sheet and hand it to staff or board members before delivering a presentation on how to make your club more inclusive.
Embed one of the videos into your presentation to build empathy and understanding.
Be sure to obtain relevant permissions and consent before using images and logos.
Posters
Inclusion Poster for Clubs Template

(PPTX • 309.1 kb)

Inclusion Poster for Clubs Template - Shoes

(PPTX • 6.5 mb)
Example posters: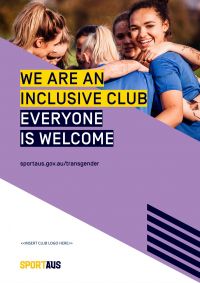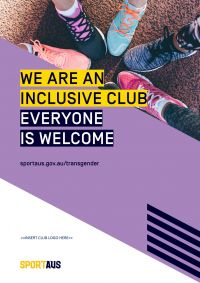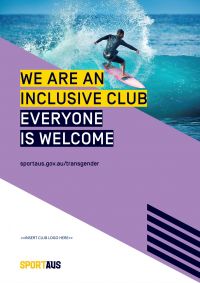 Fact Sheets
Common Terms - Editable fact sheet for clubs

(PPTX • 121.4 kb)

Creating Inclusive Environments - Editable fact sheet for clubs

(PPTX • 253.8 kb)

Examples of Exclusion - Editable fact sheet for clubs

(PPTX • 235.0 kb)
Return to top